Sudan: Bashir supporters to counteract anti-regime protests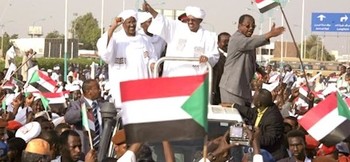 Supporters of Sudanese leader Omar al-Bashir have been called to gather in the capital to counteract anti-regime protests which have gripped the country since 19 December.
Sudanese minister of labor Bahr Idris Abu Garda said at a press conference in Khartoum this afternoon that pro-government supporters will assemble in Khartoum's Green Square on Wednesday morning.
"We call upon the Sudanese people to participate in the gathering at 9:00 am. The president and representatives of political parties will address the crowd. We think that the gathering is very important," Abu Garda said.
"The gathering promotes the unity of this country. We are working hard to find solutions to the real issues expressed by the citizens," he added.
Abu Garda, who leads a political party allied with Bashir, said the big rally would demonstrate Sudan's cohesion." The rally is all about peace and how we can move forward with peace and national dialogue," he said.
An umbrella group of independent professional unions also called on anti-government protesters to march on the parliament on the same day to demand that President Omar Bashir step down.
Bashir, who came to power in a military coup backed by Islamists in 1989, blamed a foreign conspiracy for trying to destabilize his country.
Loyalist legislators have been rallying support in the national legislative assembly to introduce constitutional amendments to allow Bashir, 74, to run for presidential elections slated for 2020.
The Sudanese government has acknowledged that the protests started peacefully over rising prices but soon turned political, with calls on Bashir to quit.
Amnesty International has said it has "credible reports" that 37 people were killed in the protests, but the government has acknowledged only 19.