KHARTOUM/JUBA -
10 Jun 2019
Sudan authorities deport opposition figures to Juba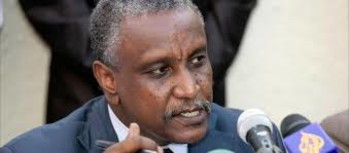 File photo: Deputy Head of the SPLM-N faction led by Malik Agar.
Sudanese security forces on Monday freed and deported a prominent opposition leader detained in Khartoum last week.
Arman, the deputy leader of the Sudan People's Liberation Movement-North under the leadership of Malik Agar (SPLM-N Agar), was released and deported to South Sudan's capital, Juba.
The opposition leader was sent to Juba along with the opposition movement's secretary general Ismail Khamis Jalab and its spokesperson Mubarak Ardol.
Mubarak Ardol, the spokesman of the opposition group, told Radio Tamazuj this afternoon that they were forced to leave the country. "We are now in Juba. We have been deported from Khartoum," he said.
Ardol did not explain the reason for their detention.
There was no immediate response from Sudan authorities. But state news agency SUNA reported that the detained opposition figures have been released, without further details.
Arman, who had recently returned to the country after years in exile, was detained by security forces on 5 June. Jalab and Ardol were arrested on 8 June after the ruling military council met the Ethiopian prime minister who was in Khartoum to try to revive peace talks.
Last week, the African Union (AU) suspended Sudan's membership days after the army launched a deadly crackdown on protesters that killed dozens of people.