Struggle for vice-president is behind opposition alliance's crisis: opposition official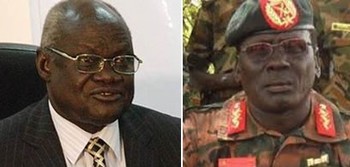 A leading member of the South Sudan Opposition Alliance (SSOA) admitted that the struggle for the vice-president's position is one of the reasons for the ongoing crisis in the alliance.
Row deepened among members of the coalition after their interim leader Gabriel Changson rejected elections conducted on 30 November in Khartoum, where General Peter Gatdet was declared the winner of the controversial election.
"One of the reasons that caused the ongoing crisis is the struggle for the position of the vice-president. Dr Lam Akol was lobbying for the position of the vice president, "Gen. Hussein Abdelbagi told Radio Tamazuj on Monday.
"But we are saying that Dr Lam has the right to lobby for the post. He was supposed to work within the opposition alliance to get the position instead of causing crisis," he added.
Hussein, who is loyal to Changson's faction, pointed out that they were working to reunite two factions. The opposition official asserted that Gabriel Changson remains the legitimate leader of the coalition.
South Sudan's prominent opposition leader Lam Akol could not immediately be reached for comment.
The peace deal says the presidency shall comprise the president, the first vice president, and four vice presidents one of them is allocated to the opposition alliance.