CORRECTED: Striking secondary school teachers in Jonglei shut down ministry over unpaid incentives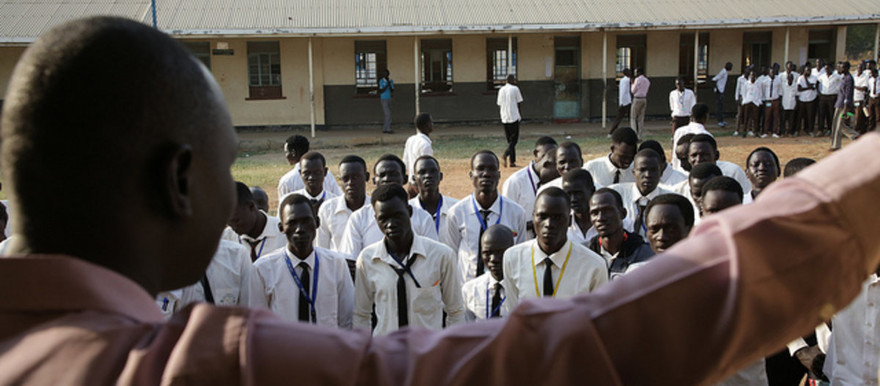 Over 200 secondary school teachers in Bor town of Jonglei State have partially shut down the state education ministry as they protest unpaid incentives.
The protest erupted on Monday and continued until Tuesday as the 273 teachers demanded about 19 million South Sudanese Pounds in incentives from July 2019 to March this year.
Jacob Ateny, the Secretary-General of the striking group, told Radio Tamazuj on Wednesday that the education ministry will partially remain closed until their incentives are paid.
"The offices of the director-general of the state education ministry Abel Manyuon and director for secondary education Francis Mayen will remain closed until we receive our money. This was agreed during our meeting with the state government yesterday," Ateny said.
He added, "This 19 million SSP we are demanding, is from July last year to March this year. The information we received from the Undersecretary was that all states received the money we are demanding."
Ateny warned of more protests if the state government fails to address their grievances.
Francis Mayen Deng, the secondary education director in Jonglei, said they have not paid teachers for 13 months because they did not receive money from the national education ministry.
He further pointed out they are unable to engage the national ministry since the protest began as they cannot access their offices as the protest continues.
However, Joseph Mayen Akoon, the state police commissioner, promised to send the teachers' grievances to the governor for his intervention.
NOTICE OF CORRECTION: An earlier version of this story stated that over 200 secondary school teachers in Jonglei protested unpaid incentives, which are part of the European Union (EU) donation aimed at supplementing teachers' salaries. This is inaccurate. The protests are not related to EU funds to education projects.
The European Union does not pay incentives for teachers from private schools and from secondary education schools.