States issue dropped from peace talks agenda: opposition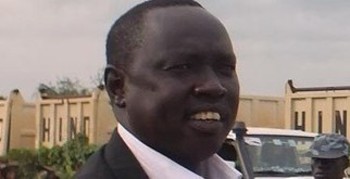 Photo: Manawa Peter Gatkuoth
The Sudan People's Liberation Movement-In-Opposition (SPLM-IO) on Sunday said the issue of states had been dropped from the agenda in the ongoing process of negotiations in Khartoum.
"The agenda of states has been withdrawn by the mediators… it is not among the issues being discussed now," Manawa Peter Gatkuoth, deputy spokesman of the SPLM-IO group, told Radio Tamazuj.
Manawa, who is also a member of the negotiating team, has expressed dismay over the mediation team's cancelation of the talks on the number and boundaries of states again, saying the delay would affect the peace process.
"Without resolving the issue of states first, it will be very difficult to discuss issues related to cantonment sites and unified forces in the upcoming workshop. We are saying that it should be addressed first," Manawa said."The mediator has not given any reason why the issue of states has been withdrawn from the timetable, but I think the mediator will clarify to us tomorrow."
The opposition official pointed to signs of progress on the powers of President Salva Kiir and his five deputies and the five ministries at the peace talks today. "I am sure we will agree on it, but we are still discussing it," he said.
The South Sudan parties are expected to conclude the third round of talks on Monday before they could start a workshop on implementation matrix.