SSUM's suspension by alliance is illegal – spokesman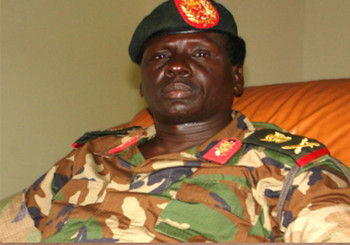 Photo: General Peter Gatdet Yak
South Sudan United Movement (SSUM), a suspended member of the opposition alliance, said that the suspension of its membership is illegal.
The rebel group led General Peter Gatdet Yaka was suspended by the opposition alliance last week, for signing a power sharing deal with South Sudan government and SPLM-IO led by former vice president Riek Machar in Khartoum.
The South Sudan Opposition Alliance (SSOA) is a consortium of nine opposition entities.
"The purported suspension of SSUM is illegal. The decision was taken by individuals who hold a grudge against SSUM or General Gatdet," Juan Dar, the spokesman of the SSUM group told Radio Tamazuj today.
He further said the decision was taken by Gabriel Changon and Lam Akol without involving all leaders of the opposition alliance. Juan pointed out that the opposition alliance is weaker at the ongoing peace talks than it's been before.
"Initially we agreed to be united as members of the opposition alliance, but most of the leaders who came here left the venue of the talks, so I can say that the alliance is divided," he said.
"FDs now are still part of SSOA, but they are being given their own ministries as a separate group. Do you think they are still members of SSOA?" he asked.
The opposition official pointed out that his group decided to sign the proposed power sharing agreement after observing that the alliance is weak and divided.
"We were not ware when many leaders of the opposition alliance left the venue of the talks in Khartoum and travelled. SSOA is no longer a legal body that can suspend any entity that has its own policy and plan," Juan said.
"We cannot be suspended by two people. SSOA does not comprise of two people only. So, I can say that what is happening within the opposition alliance is not different from what is happening in Juba," he said.