W. BAHR EL GHAZAL/WARRAP STATE -
4 Sep 2023
SSPDF deploys along W. Bahr el Ghazal-Warrap border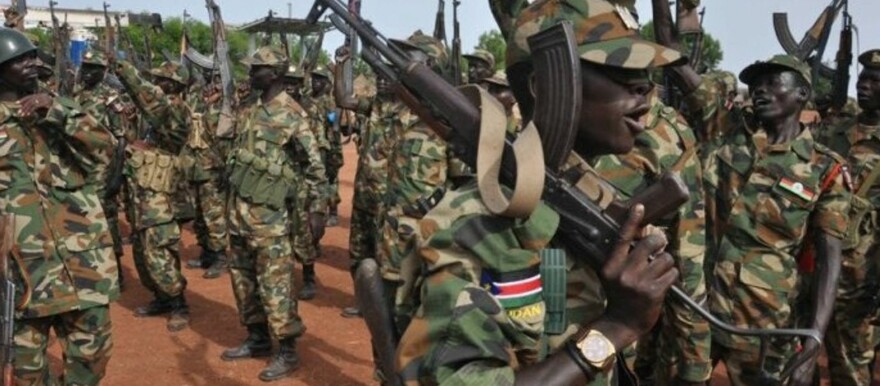 SSPDF forces [Photo: AFP]
The South Sudan People's Defense Forces (SSPDF) have deployed at Manyang checkpoint on the border of Western Bahr el Ghazal and Warrap states after insecurity flared up in the area.
The communities from both states have been claiming ownership of the area leading to tension.
Last week, over a hundred cattle were reported to have been looted from both sides by the youth who were involved in the violence.
Warrap State Information Minister William Wol Mayom told Radio Tamazuj last week that the situation in the area has returned to normal after the intervention of the authorities in Warrap and Western Bahr el Ghazal states.
"There was a misunderstanding that erupted over a checkpoint on 26 August but of course, the two leaders of Western Bahr el Ghazal and Warrap states finally resolved the issues on Thursday," he said. "The issue was a misunderstanding over a checkpoint.  A police force was dispatched by Major Ajang Anyuon from Western Bahr el Ghazal and established an illegal checkpoint at Manyang and it created tension between the people and the local administration, particularly the section Bo-yar."
"Upon hearing this, the commissioner of Gogrial East County was ordered by the governor of Warrap State, and in Western Bahr el Ghazal state, the commissioner of Jur River was also ordered by the governor together with the commander of SSPDF's Division 7 to resolve the issue," Mayom added.
He said the issue had been resolved and the raided cattle recovered from the rustlers and handed back to the rightful owners on 30 August.
"On the side of Warrap, 75 head of cattle have been collected and in reality, 53 were handed over to the rightful owners while nine were still on the way and will be handover soon," the minister said.
Mayom also said 42 cattle that were raided by youth from Marail-bai of Jur River County were peacefully handed to their owners in Warrap State.
For his part, the acting police commissioner in Western Bahr el Ghazal State, Maj. General James Simon Yasi, confirmed that there was a dispute in Manyang which is located in Jur River County. He said elements from Warrap State wanted to control the area.
"There was a dispute in the area of Manyang between communities but the administration of the two states, the commissioner from Warrap and commissioner of Jur River went to Manyang where cattle were looted from both sides but were now returned," he explained. "Wau received 63 and the remaining was 17 and Warrap received 44 cattle and the remaining was like 18 cattle and both sides agreed that there will be no more conflict between the two communities."
According to Gen. Yasi, even after resolving the tension, there is still a need for the two states to resolve the matter decisively.