SSPDF to prosecute soldiers for various crimes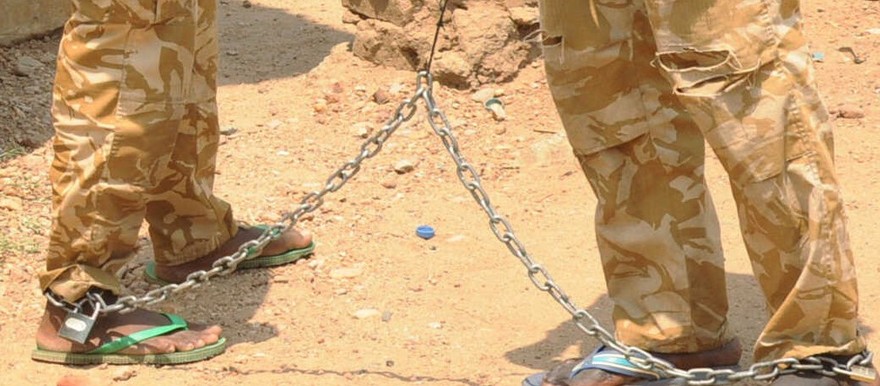 Soldiers suspected of beating and raping civilians are chained together within the army headquarters, after their arrest in Juba, March 3, 2017.
The South Sudan People's Defence Forces (SSPDF) said it has established four mobile courts to try soldiers who have committed various crimes across the country.
"It is true. Four mobile courts have been established. One will be heading to Jebelain where some forces have committed different crimes. There is a team that will go to Malakal to the Second Division to try some suspects there and another mobile court will go to Renk as well, Brig. Gen. Lul Ruai Koang, the SSPDF spokesperson, told Radio Tamazuj on Friday.
According to Ruai, the charges brought against the suspected soldiers include rape, looting, and murder among other crimes. He said the mobile courts will go and try them and shall convict those found guilty and set free the innocent.
"There are about 22 soldiers with different ranks who will be tried. The fourth mobile court will go to Division One in Renk. In Division 8 and 10 in Jonglei state, 19 suspects are awaiting trial. Two mobile courts will be going to Divisions 8 and 10 in Jonglei state. The third mobile court will go to Division Two in Malakal," he said.
Asked when the courts will start their work, Gen. Ruai said the trial dates will be determined by the president of each mobile court upon their arrival on the ground.
"So their travel dates are different and it depends on their preparation. Upon their arrival, they will engage local military leadership and discuss how the trials will begin. I will be in touch with them and follow up with each mobile court and later announce to the media once they begin any trial in those four locations," he promised.
Tasked to explain the timing of the formation of the mobile courts at this time, he said the law dictates that anybody accused of committing a crime has the right to be heard in court.
"So this is a human right. Secondly, it is the right of the person affected or the victim to also get to know who exactly committed an offense against him," Gen. Ruai said. "Thirdly, we have few individuals who are spoiling the name of the SSPDF and it is our right to take them to court and hold them accountable for their deeds. We have rules and regulations, we have an international obligation and if anyone committed any crime, they should face the law."
Elements of SSPDF have in the past been accused of wide-ranging war crimes including, but not limited to, extra-judicial killings, displacements, rape, murder, torture, wanton destruction of villages, plunder, looting, and scorched earth operations.