SSPDF, SPLA-IO trade accusations over new fighting in Maban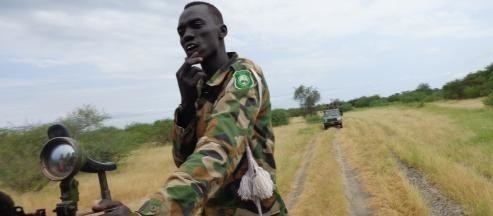 File photo: Government troops in Manyo County, 2013
SPLA-IO forces accused SSPDF troops of launching an attack on their position in Maban County of Upper Nile State on Tuesday, a charge the SSPDF denied.
It was the latest exchange of accusations since both sides clashed in Nasir County earlier this week.
Brig. Gen. William Gatjiath Deng, the military spokesman for the SPLA-IO, told Radio Tamazuj on Thursday that their forces in Liang, a cantonment site in Maban County, came under assault by government troops.
"That's what had happened at the Liang cantonment site. The fighting between the two sides lasted for several hours, but we managed to repulse the attackers. So, our forces are still maintaining their position at the cantonment site," Gatjiath said, adding that two SPLA-IO were killed in the fighting.
For his part, SSPDF deputy spokesman Brig. Gen. Santo Domic denied the claims that their forces attacked SPLA-IO forces in the area of Liang on Tuesday.
"What happened is that the SPLA-IO on Tuesday left the cantonment area in Liang and attacked an area called Baithiang near the River Nile to loot goats and food items. In the process, two civilians were killed and one of our soldiers was also killed," Domic said.
The army deputy spokesman accused the SPLA-IO forces of violating the peace agreement.
Meanwhile, the Executive Director of Maban County, Mumin Khidir, said SPLA-IO forces and armed civilians clashed at Dangagi Bridge on Tuesday. He said at least four people including a Sudanese national were killed in the clashes.
"We lost three people from the area and one of the Sudanese refugees. Also, two people sustained injuries in the fighting. But I can confirm now that the security situation is calm," Mumin concluded.
The partners in the peace agreement are yet to unify and deploy armed forces. The unity government says it is financially constrained to complete the implementation of the security arrangements that include unification of both government and opposition soldiers.
The formation of a unified army in South Sudan is a cornerstone of the September 2018 peace agreement.