CENTRAL EQUATORIA -
31 Dec 2021
SSPDF soldiers set men on fire in Loka: Archbishop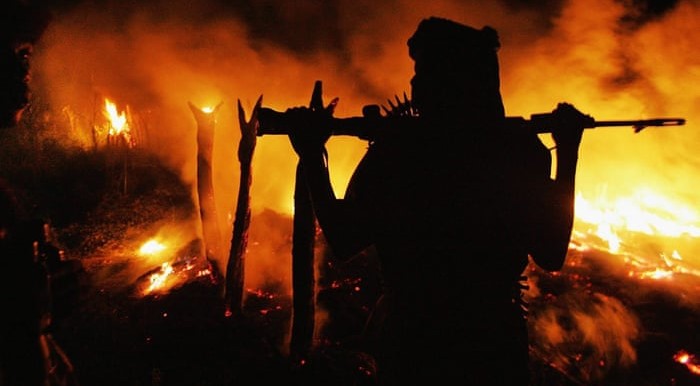 File photo
Dr. Paul Pitiya Benjamin Yugusuk, the Episcopal Church of South Sudan Archbishop of the Central Equatoria Internal Province said three SSPDF soldiers forced Christians to drink alcohol, looted civilians, and forced five men into a hut before setting it on fire in Lainya County on Christmas Eve.
"I regret to inform all the Christians and the leadership of the church that members of our churches in Loka West have been attacked by three government soldiers. They forced members of the Revival Movement of Loka to drink alcohol," Dr. Yugusuk told Radio Tamazuj on Wednesday.
"It is something that we have never witnessed, that Christians should be forced to drink alcohol. After that then the soldiers locked five members of the church in a hut and set it on fire while they abducted three women. Fortunately, the five men were able to escape with injuries from the hut which was on fire," he added.
Yugusuk, who is also the Bishop of the Diocese of Lainya, said the soldiers forced the women to carry their loot, including goats and domestic property, and later detained them in the SSPDF barracks.
"So far they have released two of the women but one remains in custody. They also injured fifteen members of the community and they have all been brought to Lainya hospital for treatment," he said.
"My dear government and SSPDF, this is a time of peace, a time of Christmas and we don't expect our Christians to be forced to drink alcohol and locked inside a hut to be burned to death. If it was not because of God, all these five men would not have been rescued," Dr. Yugusuk lamented.
"It is not a time that our women have to be arrested and raped. It is really a shame on our country and we want to ask our SSPDF, especially the ground forces in Loka West to immediately release the woman under arrest."
Archbishop Yugusuk said this is the second time the SSPDF is attacking people in the area, "the first time was in Loka Round and they forced Christians to drink alcohol. This one in Loka West is now a repeat."
He further said he visited the injured in Lainya Hospital and most of them were due for discharge after completing their treatment. He also said that he took one of the victims to Juba for further treatment.
Asked if the incident was reported to the government authorities, the Archbishop said, "We reported to the SSPDF based in Lainya and they even went and visited the victims in Lainya Hospital. Fortunately, after two days, an SSPDF force came and arrested the three soldiers who perpetrated this mayhem and took them to Yei town."
The Archbishop asked the Chief of Defence Forces of the SSPDF, Gen. Johnson Juma Okot, to continue with the programming of reigning in and training the army.
"He came to us in Lainya Yei and talked to both the civilians and the army. These problems are not only happening here but all over South Sudan. We need training for our soldiers. We have soldiers who are not trained and they must be trained. There are soldiers who have stayed in one place for a long time without being transferred. There are many categories. They are also the issue of pay, soldiers are not paid and they don't have food. So they are hungry and looking for food. They need to be paid and they need their food. This is very important," he stressed.
Dr. Yugusuk said not all the soldiers are bad and that there are organized and good soldiers in Kupera and Lainya and other places, "For example, in Kupera, the soldiers are nice and live in harmony with the civilians and the latter even contribute food for them but there are also bad ones who carry out atrocities and rob people like in Loka and Berega."
Calls to the army spokesperson went unanswered.
The essential part of the revitalized peace agreement that has not been implemented is the consolidation of the government military and the opposition forces into one army. According to observers, a unified military that meets international human rights standards is necessary for lasting peace in South Sudan.
The unification of the various forces should have happened before the formation of the unity government in February 2020. However, logistical challenges and disputes between the parties to the peace agreement have made it difficult.