SSPDF soldier shot, wounded in border town of Nadapal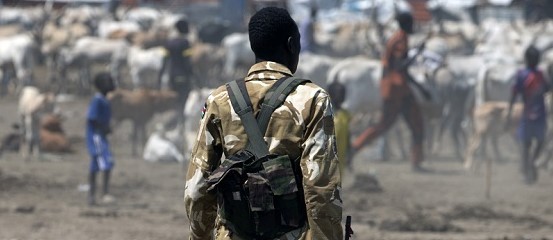 A South Sudan People's Defense Forces (SSPDF) soldier has been shot and injured by unknown gunmen in Nadapal, a town in Eastern Equatoria State near the Kenyan border.
Juma Justin, the executive director of Kapoeta East, told Radio Tamazuj on Wednesday that the soldier, who was identified as Peter Twach, was shot as he was going to military barracks on Sunday evening.
"Private Peter Twach went home to eat supper but when he was returning to the barracks he met three Turkana armed men on his way and those people shot him. He was actually not having a gun. Later when the place was searched, it was found that the attackers left their cup and a bottle of water they were carrying. In the morning, the footmarks were followed and it entered Kenya," he explained.
"We have already informed the authorities in Kenya so that they search for the criminals, they must be arrested to face the law because our policy on the common border says issues of cattle should not be mixed with government matters," he added.
The local official pointed out that the wounded soldier had been taken to Kapoeta Hospital for treatment.
Dr Mustafa Lokuru, a medical director at Kapoeta Civil Hospital, said the soldier's health condition has improved, revealing that the soldier was shot in the chest.
"The soldier's health condition is stable, so we instructed the doctors who were on duty to perform their duty. They did the chest tube for him and an appropriate antibiotic was given and the guy is well, but we have not yet discharged him," he explained.
Kenyan authorities could not immediately be reached for comment.
The Toposa from South Sudan and the Turkana in northwest Kenya have had conflicts over border tensions and grazing lands.
South Sudanese and Kenyan authorities have recently agreed that the neighbouring pastoralist communities of Turkana from and Toposa will share grazing lands and water points during the dry season to avoid conflict along the common border.
The agreement between both sides was reached during a cross-border security meeting at the border town of Nadapal.