SSPDF denies involvement in Lianya killings, blames NAS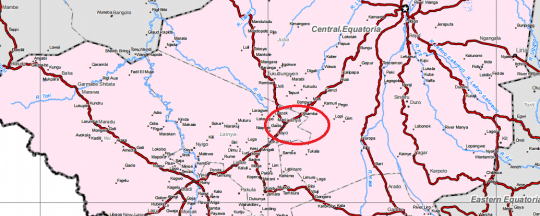 The South Sudan People's Defence Forces (SSPDF) has denied that its soldiers were involved in the killing of a cleric and several other people in Lainya County of Central Equatoria on Tuesday, 1 June.
SSPDF spokesperson, Gen. Lul Ruai Koang told Radio Tamazuj on Thursday that the National Salvation Front (NAS), led by Gen. Thomas Cirillo, are to blame and said the latter were the ones in control of the area where the killings took place.
"We have to tell the truth here. The incident took place in Gandari which is located in the northern part of Lainya and a distance of two hours walking. There are no proper roads in that area. The area is controlled by NAS and there are no citizens there and no church building as well. This is where NAS forces are based and they normally ambush commuters," Gen. Ruai said.
Reminded that the Bishop of Lianya Diocese, Dr. Paul Yugusuk, directly accused the SSPDF of the killings, Lul said: "What the Archbishop is saying is not correct. We didn't kill anybody but our chief of staff has promised to carry out an investigation into this incident and it will include SSPDF, CTSAMMVM, the church, etc. They are supposed to tell us the exact location where these people were killed."
The SSPDF mouthpiece said their forces fought with NAS elements and captured the latter's tents, plastic sheeting for sleeping, and goats.
"So the incident did not take place in Lainya. The incident was in Gumberi. It is clear that it is NAS who began attacking our position. Their commander, who was putting on a Wild Life or Prison Service uniform, instructed his forces to attack us. He was killed and his uniform is in our procession now," Gen. Ruai said.
He accused NAS of waylaying innocent travelers, ambushes, kidnap for ransom, and torching vehicles in the greater Yei area.
On Tuesday, Archbishop Dr. Paul Yugusuk announced the killing of a parish priest of Gumbiri in Lainya and categorically accused the SSPDF of murders in the area.
"I regret to inform all of you, that today 1st June 2021 the South Sudan Defense Forces (SSPDF) arrested and killed Rev. Cosmas Kwaje Matayo a parish priest of Gumbiri Parish, Loka Archdeaconry, Diocese of Lainya, Episcopal Church of South Sudan in a cold blood," Archbishop Yugusuk said. "Rev. Cosmas Kwaje Matayo was arrested while presiding over church service on Sunday 30th May 2021 together with four other church members Simon Taban Elekima, a 10 year Sunday schoolboy, church elder Moses Wani Daniel who is also Sub – Chief and Church elder Benjamin Laki Jibidayo who is also a Head man."
The Archbishop also said that the SSPDF arrested one Mary Gaba Henry and her whereabouts are not known. He said the army looted goats, chicken, clothes, and cash in the Kuturjo residential area and burnt houses in Loka Round in Longera and areas of Darape, Lokirarat, Nyaporo, Kengwe, Rego, and Lomilikin.
"The SSPDF also arrested thirteen (13) youths in Rudu, eleven (11) of whom were released after serious beatings and they are even at the hospital. Businessmen David Bosco, Ojas Lokule Stuart, and Lomoro Lo-Bonjin of Lainya town have not been released to date," Dr. Yugusuk said. "I call upon the chief of South Sudan People's Defense Forces, General Santino Deng Wol to immediately investigate the killing of cleric Cosmas Kwaje Matayo and other church members and arrest all those undisciplined soldiers who have committed the barbaric killings. I further call for the immediate release of all those who have been arrested."
However, NAS, in a press release yesterday blamed the SSPDF for the killings in what is now becoming a blame game.
Suba Samuel Manase, the NAS spokesman said, "On 1 June 2021, the SSPDF, who are now operating under the orders of "shoot at sight". In Gumberi Village of Lainya County, killed four (4), innocent civilians, in cold blood. Among those assassinated were Rev. Cosmas Kwaje Matayo, the parish priest of Gumberi parish, Simon Taban Elekima, a ten-year-old Sunday schoolboy, Moses Wani Daniel, a church elder and sub-chief and headman Benjamin Laki Jibidayo."
He added, "These civilians were found in service in the church and dragged out and summarily killed because of their ethnicity. SSPDF are also committing the same atrocities in Kajo-Keji County."