SSOMA boycotts Rome talks due to killing of rebel commander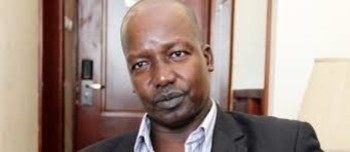 File photo: Thomas Cirillo
The South Sudan Opposition Movements Alliance (SSOMA) affiliated with Gen. Thomas Cirillo have said that they were going to boycott the Rome peace talks which were slated to commence May 8, 2021.
A statement by SSOMA seen by Radio Tamazuj over the weekend read in part, "SSOMA would like to inform its supporters, the people of South Sudan, and the International community that we will not take part in the upcoming scheduled round of peace talks in Rome until further notice."
The grouping of opposition and rebel outfits attributed their latest decision to the alleged assassination of General Abraham Wana Yoane, the Chief of General Staff of the rebel South Sudan National Movement for Change/Army (SSNMC/A), who was attacked in his house in Kampala on the night of 20 April, beaten and left for dead.
"SSOMA's suspension of participation in the talks is because of the cowardly act of assassination of its senior military member General Abraham Wana Yoane, the chief of staff of (SSNMC/A) who was killed on the 22 April 2021 in Kampala, Uganda. The killing of Gen. Abraham bears the hallmarks of the elements and their hired assassins of South Sudan National Security," the statement signed by Kwaje Lasu read.
"SSOMA believes in and is committed to the peaceful resolution of the conflict in South Sudan under the auspices of the Community of Sant'Egidio, however, we will not submit to bullies and the unwarranted killings of our members," it concluded.
Late last month Kwaje Lasu told Radio Tamazuj that Gen. Abraham Wana was attacked on the night of 20 April at his home in Kampala in Uganda.
"Some people climbed over the fence and they were speaking in Arabic, they were South Sudanese. They knocked on the door and when the general opened they beat him up severely, in a very inhuman way. He was stabbed with a knife in the back," He said at the time.
According to Lasu, his SSNMC/A believes the people who attacked Gen. Wana were sent from Juba, "They even told him that they have come to take him to Juba and "you will come with us". When the general tried to fight them off they beat him up terribly."
The SSNMC/A said the deceased was taken to International Hospital Kampala where he underwent head surgery but succumbed to his injuries and died yesterday 22 April.