SSLM/A rebels 'ready for negotiation'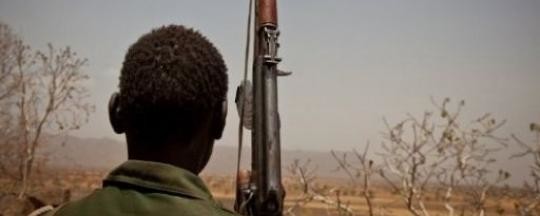 A South Sudan rebel group known as the South Sudan Liberation Movement/Army (SSLM/A), commanded by Lt Johnson Ulony, has expressed its interest in negotiating with the government of South Sudan to end the war and achieve peace in the country.
Speaking to Radio Tamazuj on Wednesday, rebel coordinator Brig John Udhong Achuil disclosed that their return came as a response to presidential amnesty which was granted by the South Sudanese President Salva Kiir April this year.
"We as a team of Lieutenant Johnson Ulony have accepted the presidential amnesty. We are both striving for peace, which promoted the development of our new nation", said Achuil.
Two days ago, Lt Ulony was reportedly seen on the government-owned South Sudan TV news announcing their surrender to the government, but without giving details of the reasons for the decision.
"First of all, our issue was about the Shilluk tribal lands in Upper Nile. We did not take-up arms against the SPLM or the government of South Sudan; we took up arms because of a land issue", Achuil clarified.
According to the rebel coordinator, members of his group, who are Shilluk, dispute areas of Alak Diar, Nyanciel (located to the west of Sobat), Ubot and Wun Lual among others with their Dinka neighbours of Akobo, Banriek and Atar in Upper Nile State. The rebel coordinator claimed that the areas belong to their forefathers and are not disputed at all with the Dinka who reside there. He then conceded that the Nyithor area belongs to Dinka.
The rebel coordinator also said he hoped that under the presidential amnesty, they would reach a 50/50 deal with the government for the sake of peace and development in the new nation. He criticized the rebellion, said it was a loss to the country, and called for it to be halted immediately in the interests of peace.
However, he declined to outline the movement's conditions for negotiation with the government. "There must be concessions," he said, "so that we can reach a deal". He also said it was "up to his boss and the president to discuss".
"Until now we have not received the conditions for negotiation. We will see what they will offer us. If they suit us we will accept and if not we will give them our conditions. There must be concessions from the government because it is a process of agreement and recruitment", stated the rebel leader.
Achuil outlined that the SSLM/A has about 6,000 armed men of whom 4,000 are already in Mayom county and 2,000 others are "making their way there".
Radio Tamazuj could not reach anyone from the Akobo, Atar and Banriek Dinka communities in Upper Nile for comment.