SRF denies South Sudan's involvement in recent fighting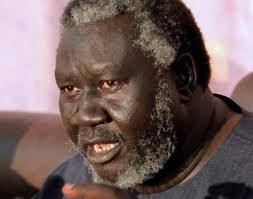 The president of the Sudan Revolutionary Front Malik Agar has denied allegations that South Sudan was involved in the attack supporting Sudanese rebel forces on the border area of Jau in South Kordofan.
Early last week, Khartoum accused South Sudan of aiding and arming rebels engaged in recent fighting along the border with the Sudan Armed Forces.
Malik Agar the head of the SRF and also the chairman of the Sudan People's Liberation Movement North denied accusations Of South Sudan's involvement and said the fighting took place within the Sudanese territory.
Speaking to Radio Tamazuj, the chairman said the recent fighting followed the SRF's first successful operation in South Kordofan.
The SRF is made a coalition of opposition movements from Darfur and South Kordofan, including the Sudan People's Liberation Movement North (SPLM-N), the Justice and Equality Movement (JEM) and the two Sudan Liberation Movement factions led by Abdel Wahid and Minni Minawi (SLM-AW, SLM-MM).
The Front's collective aim is to overthrow the regime in Khartoum.