Sporadic gunfire in Wau, multiple people killed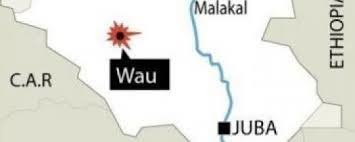 Random shooting by government troops and allied militia spread across Wau town in South Sudan's Wau State, witnesses said.
The shooting started in the morning at Aweil Jedid, Nazareth, Hai Kosti and Bagari residential areas. The eyewitnesses said a number of civilians were killed and several others wounded.
Daniel, a citizen residing in Nazareth area, told Radio Tamazuj that a group of gunmen, some were wearing civilian clothes, started shooting randomly in the town. He further said at least six people including a soldier and a child were killed in their area this morning.
He pointed out there was an unconfirmed number of civilians who were targeted in Hai Kosti, saying three people were also reported wounded and that they were taken to Wau Teaching Hospital for treatment.
The same source claimed that the gunmen who started shooting randomly in the area were speaking in Dinka language, saying the shooting started at 6:00 am.
The local resident added that a large number of people fled their homes and sought shelter inside the UN camp and places of worship in Wau town.
Another resident said a group of SPLA soldiers broke into his house and took money and mobile phones at gunpoint.
He pointed out that the operation was organized, while calling on the government to provide security to the people of Wau.
For his part, Mayor of Wau town, Mel Aleu Goc, said he didn't have more details about the incident in the town. However, he said a group of criminals had attacked an administrative officer in Nazareth neighbourhood, claiming that the incident was limited and there was no shooting in the town.
Meanwhile, Santo Domic, Spokesman of the SPLA army, claimed that the events occurred in Wau town after an SPLA patrol team sent out to reinforce government troops deployed in Bringi and Bagari areas was ambushed by criminals.
He further said at least one soldier was killed and three others wounded in the ambush.
Domic pointed out that after the SPLA patrol returned back to Wau town on Monday morning, four prison wardens rebelled against the government and killed two of their colleagues.
He noted that investigations are underway.