SPM-IO launches party secretariat, membership registration amid pomp in Torit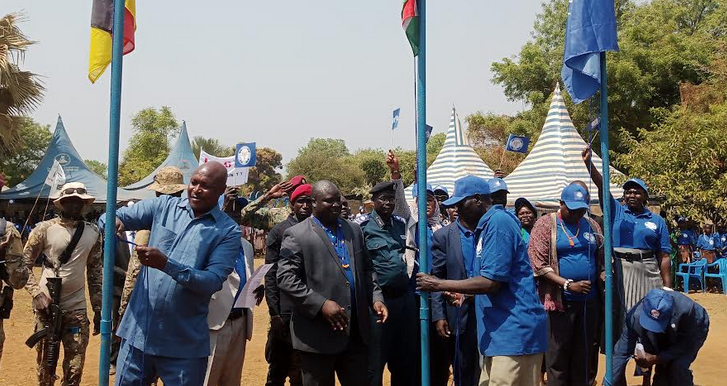 (L-R) Governor Lobong, Oyet Nathaniel, and Lodira hoist the Eastern Equatoria, National, and SPLM-IO flags respectively. (Photo: Radio Tamazuj)
The Sudan People's Liberation Movement in Opposition (SPLM-IO) over the weekend officially launched its secretariat and a registration exercise of its members in the Eastern Equatoria State capital Torit with pageantry.
Hundreds of motorcyclists and party supporters donning blue T-shirts and caps on Saturday rode and marched along the streets of Torit to the airstrip to welcome the party's deputy chairperson, Oyet Nathaniel Pierino, who also doubles as the deputy speaker of the national assembly and other party dignitaries and officials.
The SPLM-IO launched its Torit secretariat under the theme "towards a democratic, united, and prosperous South Sudan."
Addressing a mammoth crowd of party supporters at the party's state secretariat, Oyet said he was pleased by the mammoth crowd that turned up.
"Today (Saturday), we are launching the SPLM-IO party in Torit and Eastern Equatoria State and I am equally delighted to see the big numbers here. This is the testimony of the hard work the SPLM-IO party leaders in the state have been doing and that you have been implementing the peace agreement and doing party work. Congratulations to all of you," he said. "To our people in Eastern Equatoria State, we are in government at all levels because of you and we are not sleeping."
"What made us launch the party office in Torit today is to change our country for the better and all of you know that the liberation struggle began in Torit and Eastern Equatoria," he added.
Meanwhile, the Eastern Equatoria State deputy governor who is also the SPLM-IO state chairperson, Mary Alphonse Lodira, hailed Governor Louis Lobong for allowing political parties to carry out their activities peacefully and without hindrance.
"I want to thank the governor for creating this conducive environment for us to be here today because I was a little bit worried that we may have the same crises as in other states," she said. "We must applaud our governor for attending this occasion because, in other states, the governors do not attend occasions like this but instead arrest people. We want to grow up because politics is not about arresting and intimidating people but about sharing."
"We have secured office premises and established party structures at the state and county levels such as the liberation council, 12 secretaries, 11 standing committees, and county leadership," Lodira added.
She said the SPLM-IO party has continued to be resolute and determined and has remained a vital signatory to the peace agreement, and remains the only genuine voice and beacon of hope, reforms, and progressive change.
On his part, Governor Louis Lobong said he will work with all parties and urged them to work for peace and encourage the youth to work hard.  
"I want to promise that we will continue to work with all the parties and all the parties must pass the right message to the citizens and we must encourage our people to be hardworking, peaceful and to stop cattle rustling," he urged. "We must encourage our youth not to be idle and play dominoes all the time while complaining yet there are opportunities and work. You can go to River Kineti and cultivate green vegetables. They must join the private sector."
Governor Lobong said some political parties promise nonexistent jobs and dupe the youth that they can do better than the current government. 
"Where will you get these jobs?" Lobong queried.
The representative of the Other Political Parties (OPP) in Eastern Equatoria State, Pasquale Anthony, said the members of his coalition are for peace and in solidarity with the signatories of the peace agreement.
"This is a historical day and shows the political will in our state and we should send a message to others that our state has politicians who love peace," he said. "We want to assure the youth that we are now going for politics where we compete with brains, politics that gives people their rights."
"When we signed the (peace) agreement, we promised not to shoot a gun again and we need to solve the problems of our country," he added.