SPLM politburo meets to adopt basic documents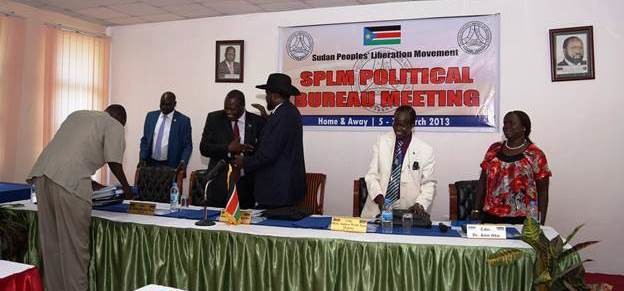 The Political Bureau of the Sudan People's Liberation Movement, the governing party of South Sudan, began a three-day meeting to review basic documents laying out the party's vision and rules.
Party leaders convened the meeting at the Home & Away conference center in Juba yesterday afternoon. They meet amid anticipation of a cabinet reshuffle and other austerity measures, the deputy secretary-general told Radio Tamazuj last week.
Formally, however, the only announced agenda item is the review of the basic documents. SPLM Secretary-General Pag'an Amum Okiech said in remarks to press moments before the opening of the meeting that SPLM will hold a "historical meeting today, tomorrow and possibly the day after tomorrow… convened to discuss basic document drafts developed by ad hoc committees established by the chairman."
The documents under discussion include the constitution, manifesto, internal rules, and code of conduct. The new documents will provide "more elaborate rules on how we conduct ourselves and how we elect our leaders within the party."
"To adapt South Sudan to the reality that it's a new country we needed to re-adapt our vision," said Amum.
Once the Political Bureau discusses and amends the drafts they will be passed to the National Liberation Council, "which will also discuss, amend and adopt a final version," before submitting this version to the National Convention, according to Amum.
The convention has already been delayed several times. Amum said that the dates of the convention "will be decided after this exercise."
According to a party official, there were 19 Political Bureau members in attendance: Salva Kiir, Riek Machar, James Wani, Pag'an Amum, Anne Itto, Daniel Awet, Kuol Manyak, Nhial Deng, Deng Alor, John Luk, Rebecca Nyandeng de Mabior, Paul Mayom, Lual Diing, Mark Nyipuoch, Jemma Nunu, Awut Deng, Kosti Manibe, Taban Deng, and Akol Paul Kordit (a youth representative).
Seven northerners earlier included in the Political Bureau are no longer counted as members. Most of them have instead joined SPLM-North.
Photo: Salva Kiir and Riek Machar greet each other before opening the SPLM Political Bureau meeting 6 March 2013. James Wani and Anne Itto stand to the right, and the vacant place belongs to Pag'an Amum (SPLM).