SOUTH KORDOFAN/NUBA MOUNTAINS -
29 Nov 2012
SPLM-N: 'SAF drops 330 bombs in Nuba Mountains'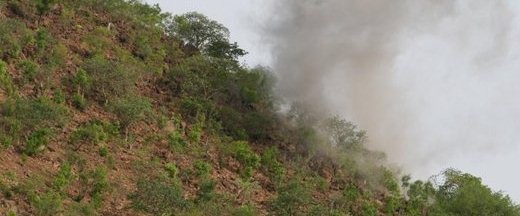 A press release issued by the Sudan People's Liberation Movement – North (SPLM-N), claims that the Sudan Air Forces (SAF) dropped approximately 330 bombs on both South Kordofan and the Nuba Mountains in the past month.
The continuous bombings have led to the death of 36 civilians, mostly women and children, and the injuring of 22 others. In addition, the press release claims that about 30 farms and 92 homes were destroyed by the continuous bombings.
Arno Ngutulu Lodi, the movement's spokesman, told Radio Dabanga the continuous air raids worsened the living conditions and contributed to an increase in the number of displaced people. The spokesman added that some of them continue to hide in caves, as the border is too far to reach, while others have crossed the border, as refugees, to Yida camp in the republic of South Sudan.
Moreover, Lodi said that those who are hiding in caves continue to suffer from the daily bombardments, he added to Radio Dabanga.
Two teenagers killed
On the same topic, Lodi revealed that an air raid, allegedly carried out by an Antonov plane in the village of Karkaray in the Nuba Mountains, has left two teenagers dead. The victims' names are Daniel Yousef Koko, 15-years-old, and Tutu Ibrahim Fatasha, 17-years-old. The Antonov plane reportedly dropped 7 bombs on the village on Monday.
Lodi added that the Antonov plane dropped a number of bombs on the village of Achron, Umm Doreen locality, on the same day, which led to the burning of several farms. The spokesman explained that the bombing of Boram also continued, causing the destruction of two homes.
He said that the losses confirm, beyond any doubt, that 'the regime in Khartoum is committing war crimes and genocide against the people of the Nuba Mountains under direct supervision of Ahmed Haroun, South Kordofan's governor, who is wanted by the International Criminal Court in The Hague for the crimes committed in Darfur'.
Cross-posted at RadioDabanga.org.