SPLM-IO 'turns down' invitation to Juba consultative meeting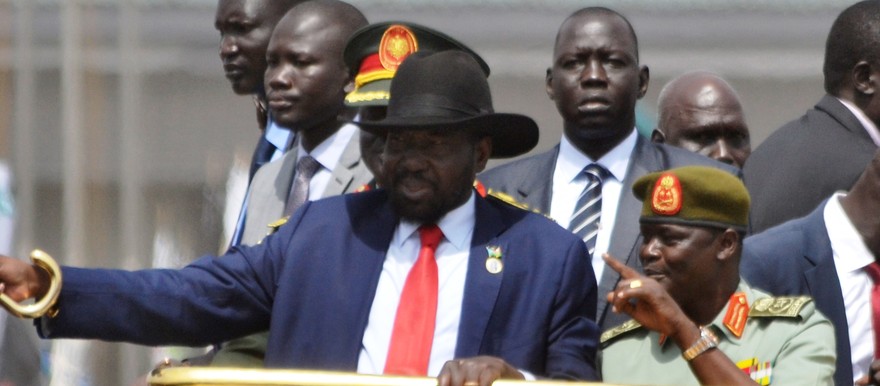 President Salva Kiir addresses citizens at Juba Airport in Juba on 12 February, 2020. (Radio Tamazuj)
The Sudan People's Liberation Movement-In-Opposition (SPLM-IO) has turned down the invitation to participate in a consultative meeting on the issue of the number of states in Juba.
This came after President Salva Kiir called for an expanded consultative meeting aimed at resolving the issue of states and their boundaries at Freedom Hall on Friday morning.
Kiir, who is supposed to report back to IGAD on February 15, said on Wednesday that he "tactically withdrew" from the talks with opposition leader Riek Machar in Ethiopia to consult his people on the number of states.
The president had extended invitations to his two deputies, national ministers, parliamentarians, presidential advisors, state governors, civil society representatives, foreign diplomats and parties to the peace agreement.
Manawa Peter Gatkuoth, the deputy spokesman for Machar's SPLM-IO, told Radio Tamazuj on Thursday that it is up to the government to decide on accepting or rejecting the proposed number of states.
"In our view, the consultative meeting in Juba is for the government and its supporters only. Our position on the number of states is very clear and Dr. Riek said it clearly during the meeting in Addis Ababa," he explained.
Manawa acknowledged that they heard of their invitation via the media on Wednesday, noting that the main opposition group was never directly given the invitation letter formally.
"If there was an invitation letter to us, it was supposed to be given to us formally because we are peace partners," he said.
According to Manawa, the opposition has accepted the recent proposal presented by peace guarantors an in Addis Ababa to revert to the original 10 states.
"The people of South Sudan will decide on the number of states during the constitution making process. So those who have been allowed to demonstrate in support of the current 32 states are government supporters only," he concluded.