SPLM-IO threatens to withdraw from Warrap State gov't over intimidation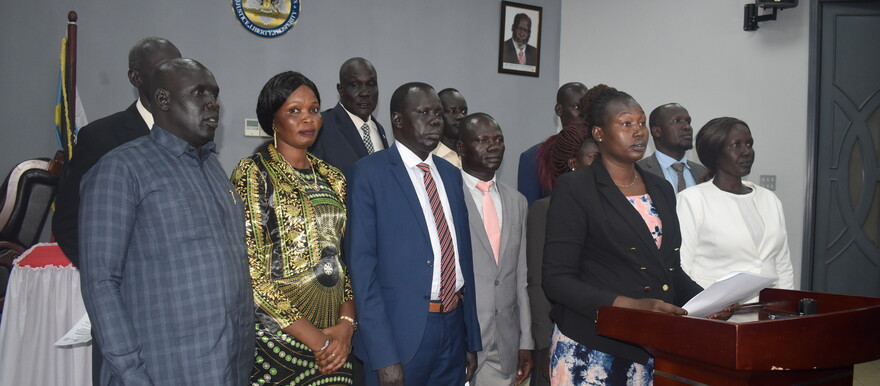 SPLM-IO MPs from Warrap state addressing the press in Juba on 18 October 2021. [Photo: Radio Tamazuj]
The Sudan People's Liberation Movement in Opposition (SPLM-IO) members in the Revitalized Transitional Government of National Unity (RTGoNU) and Council of States from Warrap State have threatened to pull out from the state unity government citing mistreatment and harassment by the state governor.
Addressing the press in Juba on Monday, the lawmakers said after a show of military might where Governor Gen. Aleu Ayieny Aleu in military fatigues with heavily armored military vehicles in the streets of the state capital Kuajok, declared war with SPLM-IO members in the state.
Yolanda Awel Deng, one of the SPLM-IO lawmakers said the governor made the declarations during the swearing-in ceremony of newly appointed cabinet ministers.
"He (the governor) harassed and intimidated one of the cabinet members in the meeting in front of everyone mistaking him for being an SPLM-IO member, asked the SPLM-IO party members in the hall to stand up, which was done, accused the SPLM-IO party members as the ones causing chaos in the state, accused the SPLM-IO of lack of cooperation with him (the Governor), threatened to kill SPLM-IO constitutional post holders, and finally declared war against the SPLM-IO party," she added.
Awel said following the pronouncements, the SPLM-IO members feel unsafe and demanded intervention.
"If there is no change in the situation, our members will withdraw from the state or request protection by UNMISS, we demand for the opening of political and civic space for all party members in the state, de-politicization of civil service, chiefs, payam administrations, and ensuring that those holding such positions be non-partisan and call upon security organs to continue being neutral and non-partisan," she added.
The MPs further distanced themselves from alleged extrajudicial killings ordered by the governor.
"There is an undeclared state of emergency in Warrap since Governor Aleu was appointed over 46 people (Tonj North 23, Tonj South 9, Tonj East 10, Twic 1 Gogiral West3) have been executed in the state without due process of law. The SPLM-IO has nothing to do with these extra-judicial kilings," Awel stated.
The legislators have called on the RTGoNU to urgently address the situation to allow the smooth running of the state unity government.