SPLM-IO Taban commander joins Machar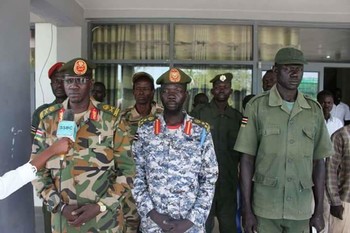 A senior commander in the SPLM-IO faction led by First Vice President Taban Deng Gai has defected to SPLM-IO led by rebel leader Riek Machar, citing poor leadership.
General Samuel Bidit Puot, popularly known as Abieth who is currently in the Sudanese capital Khartoum for medical reasons, told Radio Tamazuj on Wednesday that he will not go back to Juba but instead he will go to mobilize his community to fight the government.
"The peace that took me to juba, I did not find it. People are just brokering between the government and IO. I do not want to go back because there is no peace, there is no cantonment area, no implementation of the peace agreement, nothing, no political will for peace," he said.
Abieth accused Taban of remaining in Juba for his own personal gains.
Abieth, who hails from Lou Nuer area of Akobo, had been in the frontline fighting the government in Malakal in 2014 before he joined Taban.