'Gen. Olony must be appointed as per peace deal'- SPLM-IO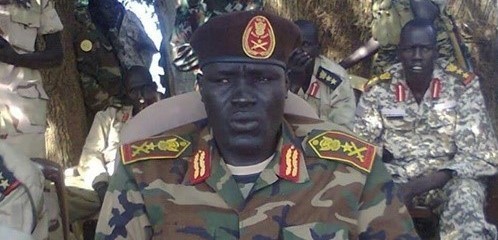 File photo: General Johnson Olony
A senior member of the Sudan People Liberation Movement In-Opposition (SPLM-IO) in the Revitalised Transitional Government of National Unity (RTGONU) in Juba says his party is not ready to submit any undertaking to guarantee Gen. Johnson Olony's appointment as governor of Upper Nile State.
Upper Nile State is the only state without a governor after President Salva Kiir and the SPLM-IO leadership dead-locked over the appointment of General. Johnson Olony. The latter was nominated by the SPM-IO but was rejected by the South Sudan President Salva Kiir who described him as a 'warmonger'.
Last week, the SPLM-IO said President Kiir and Dr. Machar had reached an agreement to appoint Gen. Olony as the governor of the Upper Nile but government spokesman Michael Makuei immediately disputed this.
During a meeting between the president and members of the South Sudan Council of Churches in Juba last weekend, Kiir said that he asked Machar to submit an undertaking in writing to guarantee his proposed governor Olony as a member of the SPLM-IO and that he will not cause chaos in the state when appointed.
Nathaniel Oyet, the SPLM-IO representative to the National Constitution Amendment Committee (NCAC), told Radio Tamazuj yesterday that his group is unwilling to submit any written document as demanded by the president over the appointment of Gen. John Olony.
"The responsibility of appointment rests with the president but our nomination still stands and there was some consensus to appoint Olony but the president gave some conditions. He said he wants guarantees and we are not understanding where it is coming from. Are there any guarantees stronger than the agreement?" Oyet asked.
"We don't understand it and we really don't know what is the meaning and the intention of it, we stick with bending and provision of the agreement which allocates responsibility sharing to individual party and they will nominate their candidate. We are bound by that there is no other undertaking that could be stronger than the provision in the agreement." Nathaniel said. "Of course, we are not going to do anything outside the agreement."
According to Oyet, Olony is a member of SPLM/A-IO and he has been a governor before and after the agreement under the 21 states of the SPLM/A-IO.
"He has been a military commander under the SPLM/A-IO chairman and commander-in-chief, there is no further proof that we should show to indicate whether he has been in the SPLM/A-IO more than that," Oyet added. "He has sent his forces to containment and training under the agreement, some of his commanders are in Juba in the different security and political mechanisms under the agreement. We don't know the intention and motivation of the president in insisting that there should be undertaking, we don't know."
The SPLM-IO official said that Gen. Olony's nomination still stands and that his party is waiting for his appointment.
Last week the government spokesman, Michael Makuei, told Radio Tamazuj, that if there had been an agreement about the appointment of Olony, he would have been appointed by now.
"If the president had agreed, he would have appointed him. He is the only governor who has not been appointed and if the president agreed he would have appointed him already," Makuei said. "Maybe even the peace agreement might collapse if Olony is appointed. This is the reason the president has been reluctant in appointing Olony but Dr. Riek has been insisting and the president told him to make an undertaking that if anything happens like chaos and or fighting in Upper Nile then he (Dr. Machar) will be responsible."
"If the first vice president allows this undertaking then it is okay and Olony might be appointed but I doubt if Riek has agreed to this. If he agreed, Olony would have been appointed," the information minister added.
Who is Gen. Johnson Olony?
Gen. Olony is the commander of Agwelek forces that signed a military merger and incorporation into the SPLA-IO under the leadership of Dr. Machar in June 2015. Before that, he fought for and was allied to the then SPLA government forces under President Salva Kiir.
SPLM-IO's embattled nominee for Upper Nile state's governorship has vigorously denied accusations of warmongering, affirming that he is part of the peace deal.
"I am not a warmonger. I am not aware of the war the president has been talking about. Among my forces, there are soldiers from all the tribes of South Sudan, so I don't fight my fellow South Sudanese," General Johnson Olony said in an exclusive interview with Radio Tamazuj in July. "If there is a war with another country, I can assure him [Kiir] that I will support them."