SPLM-IO rejects proposed power sharing deal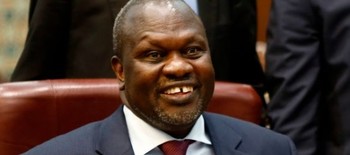 Photo: SPLM-IO leader Riek Machar
South Sudan's main opposition group, the Sudan People's Liberation Movement-In-Opposition has rejected the proposed peace deal that was unveiled in Uganda on Saturday.
The rebel group said in a statement seen by Radio Tamazuj on Monday that the Entebbe power sharing proposal focuses only on accommodation of politicians and ignores reforms desperately needed in order to effect fundamental change in war-torn South Sudan.
The group argued that the peace plan presented by Uganda's President Yoweri Museveni was discussed verbally, but there was no any official document presented to their leader Riek Machar.
"The leadership of the SPLM/SPLA (IO) would like to inform our members and the people of South Sudan at large that no agreement has been reached in Entebbe," partly reads a statement bearing the name of Mabior Garang de Mabior, the opposition group's official spokesman.
"We are following the IGAD peace process and the Movement shall not accept any shortcuts to peace by vested interests, weather locally, within the region, or beyond," adds the statement.
The proposed deal unveiled in Entebbe calls for appointment of four vice presidents, with opposition leader Riek Machar reinstated as Kiir's first deputy.
It also proposes increment of ministries from the current 30 to 45 and expanding parliamentary seats to 550.
The proposed agreement also maintains the controversial 32 states created by the country's president Salva Kiir.
Last week, South Sudan's warring parties signed a transitional security arrangements deal in Khartoum.