ADDIS ABABA -
23 May 2018
SPLM-IO rejects IGAD's peace proposal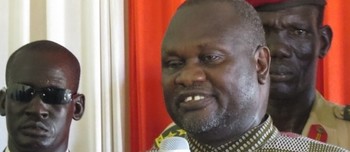 South Sudanese rebels loyal to the country's former vice president Riek Machar have rejected the power sharing proposal present by the African regional bloc IGAD on Tuesday.
Manawa Peter Gatkuoth, deputy head of the SPLM-IO's committee for information, told Radio Tamazuj from the venue of the peace talks on Wednesday that the IGAD draft proposal maintains the status quo in South Sudan.
He pointed out that the IGAD peace plan proposes giving more powers and larger percentage to the current government in Juba.
"We proposed that the country should adopt a federal system but the proposal ignored it and supported the government position," Manawa said.
"We reject the proposal that maintains the current 32 states because it is a clear violation of the 2015 peace agreement and the 2011 constitution," he added.
The top opposition official said all provisions of transitional security arrangements in the IGAD draft proposal have been rejected by his movement.
He pointed out that they had demanded for formation of a lean government based on federalism. "The IGAD proposal intends to absorb the opposition only and it is not acceptable," he said.
Manawa said that the IGAD peace proposal failed to bridge the gap between the warring parties. However, he said the proposal would be discussed and all parties would present their comments on the IGAD proposal today.
"It is not possible for the parties to sign a peace agreement today," he said.