SPLM-IO names 5-member team for consultations on peace in Addis Ababa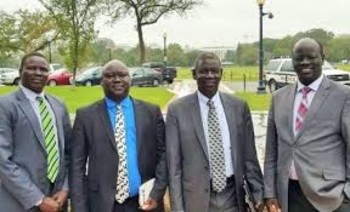 The Sudan People's Liberation Movement-In-Opposition (SPLM-IO) has named a five-member team to attend the consultation process on the South Sudanese peace talks in Addis Ababa on Thursday.
Manawa Peter Gatkuoth, deputy head of the SPLM's committee for information, told Radio Tamazuj on Wednesday that their delegation comprises of key members of the rebel movement.
"Some of the team members are already in Addis Ababa. Henry Odwar, Stephen Par and Elias Nyamlell will arrive in Addis Ababa on Thursday. Angelina and the rest are already in Addis Ababa," he said.
The opposition official reiterated their commitment to the peace process in the country. However, Manawa expressed little optimism on the IGAD-led revitalization forum.
"We are concerned about the way IGAD started the peace process in South Sudan. We think that IGAD is working to maintain Salva Kiir in power, but what we want is to address the root causes of the conflict," he said.
The Inter-governmental Authority on Development on Sunday invited key representatives of each of the South Sudan parties to go to Ethiopia for consultations.
The East African regional bloc decided to intensify its engagement with the parties with a view to identifying possible options for unlocking the stalemate during the next peace talks.