SPLM-IO governor in Central Equatoria defects to Cirilo's rebel group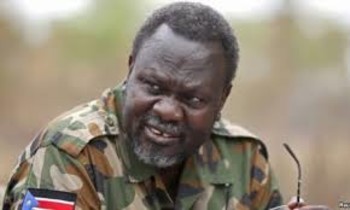 File photo: Riek Machar
A top rebel official loyal to the country's former first vice president Riek Machar said he had defected to the rebel group led by former deputy army chief for logistics Gen. Thomas Cirilo Swaka.
Brig. Gen. Mario Laku Thomas, the rebel-appointed governor of Central Equatoria region, told Radio Tamazuj today that he defected from Machar to join the rebel group commanded by General Thomas Cirilo.
Laku, who is the first governor to defect from Machar after the signed ceasefire deal, claimed he took more than 90 soldiers with him.
He accused the main rebel group fighting against Kiir of failing to come up with a plan to transform South Sudan. "Dr. Riek Machar is unable to monitor his commanders on the ground that's why I decided to join Cirilo," he said.
"I decided to defect to the National Salvation Front led General Cirilo on Monday. It is known that the ruling SPLM party has destroyed South Sudan," he added.
For his part, SPLA-IO spokesman Paul Lam Gabriel said they had received unconfirmed reports that Governor Laku defected to Cirilo's rebel movement.