SPLM-IO downplays anti-rebels' deal between Kiir and Bashir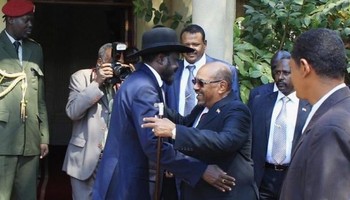 South Sudan's armed opposition faction loyal to ex-First Vice President turned rebel leader, Riek Machar has downplayed the recent security agreements between President Kiir and his Sudanese counterpart, Omar al-Bashir in Khartoum.
"The SPLM/A-IO faction does not carry out any activities in Sudan. Our activities are being carried out in South Sudan or on the ground," Kuong Dak, a senior opposition member, told Radio Tamazuj today.
The opposition official stressed that the anti-rebels' security agreement between President Kiir and President Omar al-Bashir aren't "a big deal".
He warned the international community against clamping down on South Sudan's former first vice president Riek Machar.
South Sudan has been embroiled in a violent conflict since 2013, when a split between President Salva Kiir and his former vice president, Riek Machar, escalated into outright war.