SPLM-IO dismayed by Kiir's statement on formation of a unity government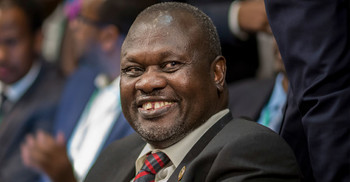 The opposition group led by Riek Machar, SPLM-IO has expressed dismay at remarks made by President Salva Kiir during a prayer meeting at the presidential palace in Juba on Thursday.
During his speech, Kiir said the unity government will be formed in November as per the agreement with or without the presence of Machar.
He added that the government and other signatory parties will form the revitalized transitional government of national unity.
However, speaking to Radio Tamazuj on Sunday, SPLM-IO's director of information Puok Both Baluang said Kiir's remarks are regrettable and show the government's resolve to maintain the status quo.
"Such statements confirm that the government is not interested to implement the agreement, but seeks to keep the situation in South Sudan as it is," he added.
Both called on the parties to the peace deal to focus on addressing outstanding issues such as security arrangements and a consensus on the number of states and boundaries.
The president's comment comes a week after a meeting with opposition leader Riek Machar in the capital Juba, where they discussed outstanding issues in the peace agreement.
The meeting came as a 12 November deadline approaches to form a transitional government. Under the deal, Riek Machar is expected to be reinstated as first vice president, one of five vice presidents.