SPLM-IO denies Angelina Teny appointed as acting chairperson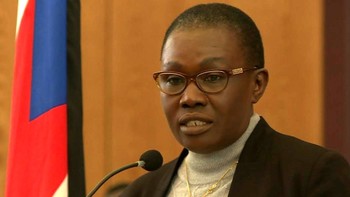 Photo: Photo: Angelina Teny (Kate Adach/CBC)
Angelina Teny, the wife of South Sudan's opposition leader Riek Machar has not been appointed acting chairperson of the SPLM-IO as circulated by some social media, the group's spokesman said.
"The document being circulated on social media about the appointment of Madam Angelina Jany Teny, as acting chairperson of the movement (SPLM-IO) under the leadership of Dr. Riek Machar Teny, is a fake document," said Machar's press secretary Lam Kuei Lam in a Facebook post.
He called upon all SPLM-IO members and the people of South Sudan not to believe the fake document about the alleged appointment of Angelina Teny as acting chairperson of the Sudan People's Liberation Movement-In-Opposition (SPLM-IO).
Lam pointed out that the fake document was meant to cause confusion among members of the movement.
Teny, who is now in Australia, said she was lobbying the Australian government and the South Sudanese community to help the people of South Sudan who are facing famine.