SPLM-IO chief whip returns after skipping parliament sittings in Juba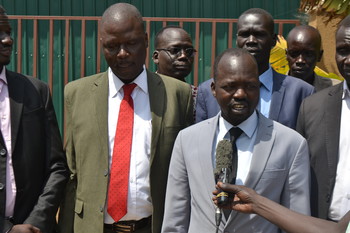 Paul Bor Gatwech, the SPLM-IO chief whip in the National Legislative Assembly in Juba, returned to Juba today after staying away from sittings of parliament for several months.
Gatwech told reporters upon arrival at Juba International Airport today that he had travelled to Australia for medical treatment and family visit but anti-government groups claimed he had rebelled against the government.
"Those who doubted that I will not return back to the parliament, I am her today to resume my duties," he said.
Gatwech pointed out that he was given permission by the national parliament to visit his family in Australia in August last year.
An MP could lose his or her membership if he or she missed over twelve parliamentary sessions without permission, as stipulated by the national assembly's 2011 conduct of business protocol.