JUBA - By Yobu Annet -
12 Mar 2013
SPLA to withdraw from buffer zone, says police to remain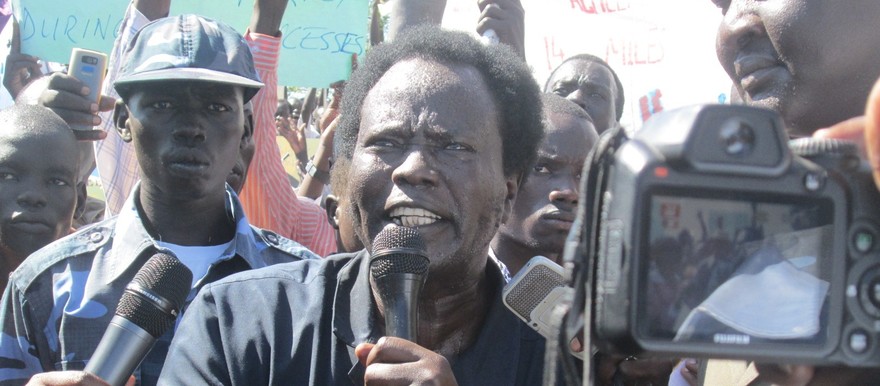 The Sudan People's Liberation Army is to withdraw from the border area with Sudan within a period of two weeks, the army's spokesman said at a press conference yesterday.
South Sudan's Commander-in-Chief Salva Kiir Mayardit issued the instruction with effect 10 March, based on the African Union High Implementation Panel map and the special arrangements for 'Mile 14' area.
SPLA Spokesman Col. Philip Aguer Panyang said this order referenced the agreement by the Joint Political Security Mechanism signed on Friday in the Ethiopian capital by defense ministers of both countries.
Detailing the plans for withdrawal, he said SPLA troops will move three kilometres southwards from Sere Malaga, a village at the eastern edge of the disputed Kafia Kinji enclave near south-western Darfur, because it is already seven kilometres from the security line. Furthermore, the army will also move its barracks southwards 3 km from Dunk Kam (Adham), located northeast of Renk, as it is already seven kilometres from the middle of the Safe Demilitarized Border Zone.
Within the so-called 'Mile 14' area it will also withdraw 22 kilometres from Kiir Adeim southwards and 22 km from Warguet. Elsewhere, they will be moving from Panakuac and 10 km from Kuek, 10 km away from Wunthou southwards, and also from Jaw 10 km southwards.
The spokesperson further reported that the Sudan Armed Forces are also expected to withdraw its forces away from areas it is occupying including in the areas of Kitgwang which is also known as Megenis, Kuek, Kafia Debi, Radom, Kobo Teshwein and Wunthou.
Aguer noted that civilians shall remain in these places so the police departments may remain in these areas to offer protection to the commoners. "This will give way to the joint border monitoring force to do its work," he elaborated.
Photo: A man speaking at a demonstration against SPLA withdrawal from 'Mile 14,' an area at Darfur-Bahr el Ghazal frontier claimed by the Dinka Malual community, 14 October 2012 (Juba Post)