SPLA soldiers sentenced for rape, murder charges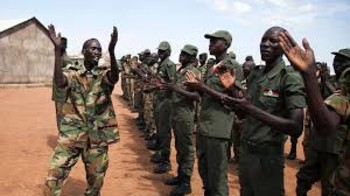 A military court in the South Sudanese capital, Juba on Tuesday passed judgements to 38 SPA soldiers for crimes related to rape, murder and corruption. But 17 of the cases were reportedly dismissed for lack of sufficient evidence.
SPLA military spokesperson, Lul Ruai Koang, told Radio Tamazuj that Peter Magok, one of the convicts received a 2-year jail term for sexually harassing an underage girl in Parajok, while another soldier was sentenced to 7 years in prison for raping a young girl in Juba.
Ruai said the convicts have 15 days from the day they were convicted to appeal.
Lul revealed that the cases of rape allegedly perpetrated by SPLA forces at Lokiriri between Juba-Nimule road have not been brought before the court.
Early this year, President Kiir instructed the minister of defence and SPLA chief of defense to kill any soldier found guilty of rape.