SPLA soldier shoots at Vivacell airtime seller in Yei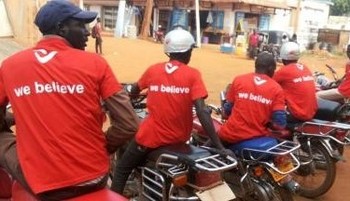 An SPLA soldier on Monday fired at a Vivacel seller at Twins Hotel office in Yei town, accusing Vivacell of high charges. No one was killed but the soldier was arrested by security agents in the town.
Peter Lasuba, an eye witness at the scene, told Radio Tamazuj that the incident took place after the soldier bought a new SIM card and loaded a scratch card (airtime) of 50 SSP to communicate with his family member.
"This soldier came here very annoyed complaining that he was cheated but when the airtime seller tried to explain to him that the call rate charges have changed, he then went home and we thought he understood our explanation. But to our surprise, he came back in full military uniform and a machine gun and asked us why we cheated him. He beat some of us and shot three rounds of bullets but God's mercy rescued us," he explained.
Lasuba said the soldier was later arrested by security personnel from the Bank of South Sudan Yei branch offices and the counter military intelligence who rushed to the scene of the shooting at the twins' hotel.
Josephine Laila, another resident of Yei town, urged the government to protect the citizens from exploitation by Vivacell which is the only telecommunication company operating there.
Vivacell officials could not immediately be reached for comment.