SPLA soldier murders Sudanese trader at Rumaker in NBeG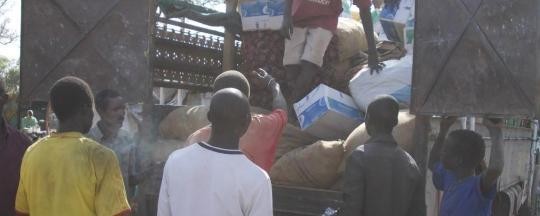 An SPLA soldier from Division 3 killed a Sudanese trader in Rumaker payam last Friday in Aweil East county.
In a press statement last week the Aweil East county commissioner, Awet Kiir Awet, revealed that the killer escaped after killing the businessman, fleeing to Western Bahr el-Ghazal before being arrested in Wau.
The soldier is now being held in military prison and faces an ongoing investigation while the family of the man have approached the county to demand compensation for his death.
"On Friday there was a person being killed at Rumaker who is from Reizigat tribe, and then following days later after the incident, the Reizigat community representative came to us demanding compensation for the victim according to the agreement signed with them during the peace conference. Then we told him (that) we have informed the security to find out the perpetrator, and actually he was found in Wau town by the SPLA soldiers," Awet claimed.
Awet claimed that Division 3 authorities reportedly told him that they will take responsibility for the compensation.
"The compensation regarding the killing is equal between three communities -Dinka Malual, Reizigat and Misseriya- so we are following the peace resolutions," Awet added.
Musa Ali, a Sudanese traders' representative who travelled to Aweil from Unity state to participate in a peace conference, claimed that they are willing and ready to trade within South Sudan despite the difficulties.
"We traders are just innocent people that have no any connection with the politics from both countries; we need peace that can last forever," Musa stated.
He encouraged South Sudanese traders not to be influenced by the political situation in dealing with those from north of the border because businesses need goods from outside of the country in order for it to progress.
He also highlighted the shared culture, language and other commonalities between South Sudan, rejecting differences.
A similar incident occurred in Aweil east in January this year when an SPLA soldier killed seven people, including four children, and burned down houses of the victims in Omdurman boma.
Related: SPLA soldier kills 7 people in rampage in Aweil East (17 January 2013)