SPLA releases 18 civilians arrested over rebel links in Yei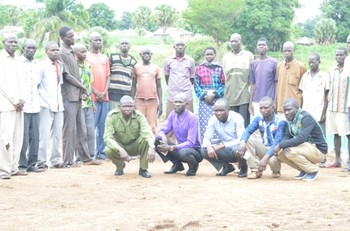 File photo: The 18 detained rebel suspects after being released in Yei on Thursday, 15 June, 2017. (Radio Tamazuj)
SPLA army commanders in Yei River state on Thursday released 18 civilians who were arrested by security operatives on suspicion of association with rebels some months ago in the state.
The 18 people who were arrested, detained and tortured were released without charge.
The move comes after a peace deal signed by Yei authorities and a breakaway faction of the Sudan People's Liberation-Army-In-Opposition (SPLA-IO) in the state recently.
Chol Deng Chol, commander of the SPLA forces in Yei, said the released prisoners included 17 men and one woman, while promising to release all detained people in connection with rebels in the state as a sign of peace and national dialogue.
"I said last week that I was going to release all the prisoners who were arrested in connection with the SPLA-IO. Even our soldiers who have not killed civilians will be set free. We are very serious about implementation of what has been written in the peace agreement," he said.
Yuma Sebastian, head of the SPLA-IO military advance team in Yei, thanked the state government and the SPLA army for having kept the detainees alive.
Yuma urged his colleagues who have yet joined the peace process to come and join peace to end the ongoing suffering of South Sudanese citizens.
"There are some of us who are still in the bush running around buying bullets for war to disorganize the implementation of peace in Yei. I want to ask you, is it good to be in prison? Do you see the health of these people? Do you enjoy war? I am not happy, we have a chance to have gotten these ones but many have been killed. Therefore, let's think twice and join hands for peace to end the suffering of our people," he said.
James Benard, one of the released prisoners, thanked the SPLA army for working to make peace in Yei River state.
"Thank God. I was arrested and accused of being a rebel. Today, I want to express my heartfelt appreciation to the army commander, the SPLA-IO brigadier and Bishop Elias Taban for bringing peace and setting us free," he said.
In November 2016, Yei government released 21 men accused of coordinating rebel activities after pressure from human rights groups.