SPLA-IO says released four prisoners of war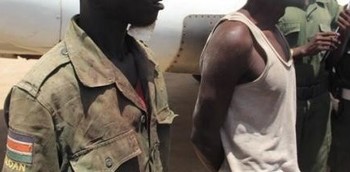 File photo: War prisoners captured in Wadakona arrive in Juba, 10 March 2015 (Radio Tamazuj)
A South Sudanese armed opposition official said they released four prisoners of war they had been holding and handed them over to the International Committee of the Red Cross (ICRC), in line with the revitalized peace deal.
Duol Chot, the rebel-appointed deputy governor of Sobat State, told Radio Tamazuj on Wednesday that they had released the four Prisoners of War (POWs) in Sobat area of Upper Nile region on Monday.
The SPLM/A-IO official said the four government soldiers were captured around Nassir town in June 2018.
The ICRC confirmed the release of the four persons detained in relation to the conflict. The humanitarian institution said the released soldiers had already been handed over to the army in Juba.
For his part, South Sudan army spokesperson Lul Ruai Koang confirmed they had received the released prisoners of war from the ICRC.
"Yes, that information is true; they brought the four soldiers who were captured in Mandeang. They have arrived in Juba, and they were received by the army in Bilpham," he said.
In September, President Salva Kiir ordered the Chief of Defence Forces to release all prisoners of war and detainees under the supervision of the ICRC.
Early this month, inmates at the National Security detention facility in Juba protested against lengthy detentions.