SPLA-IO's top general defects to government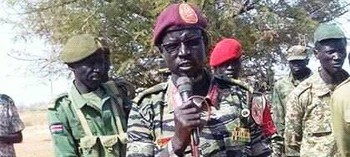 Major General James Ochan Puot, one of the SPLA-IO's top commanders, announced today that he had defected from opposition leader Riek Machar to join President Salva Kiir.
The general, who was deputy commander of the SPLA-IO's division 5, was joined by several other military officers. The defections came weeks after fighting between SPLA-IO troops and members of the Cie-waw community in 'Adar State', located in what is otherwise known as Maiwut State.
Speaking to Radio Tamazuj this afternoon, Ochan said Machar has failed to address their issues and referred to President Salva Kiir as his current leader.
"We are not happy because Machar's leadership is not good. Innocent civilians including women died in the recent fighting in Adar," he said. "Our communities are unhappy about what happened in the area of Adar".
Ochan said he defected from Riek Machar after "deliberate attacks, killings and displacement of Cie-waw community in Adar State where thousands of civilians were displaced from their homes by SPLA-IO forces since July 31, 2019."
The military general disclosed that he had established a provisional military council of breakaway group, saying the new body will continue to protect and defend the local population from any aggression by forces loyal to the leader of the SPLM-IO, Riek Machar.
Ochan said his group has declared its support and allegiance to President Salva Kiir for the smooth implementation of the September 2018 peace agreement. "We support the implementation of the peace agreement, and I will work under the government of South Sudan," he said.
President Salva Kiir, opposition leader Riek Machar and other opposition groups, entered into a peace deal last September. Kiir and Machar agreed this month to accelerate the agreement prior to the formation of the transitional government on November 12.