SPLA-IO, NAS accuse each other of attacks in Mugwo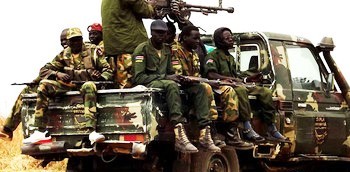 File photo
The opposition National Salvation Front (NAS) and South Sudan armed opposition forces (SPLA-IO) on Friday accused each other of carrying out attacks in Central Equatoria State.
Speaking to Radio Tamazuj, the SPLA-IO deputy spokesperson, Col. Lam Paul Gabriel claimed NAS forces attacked their base in Mugwo payam of Yei River County last Thursday.
He said they lost a soldier in the attack and their base was burnt.
Lam further said the SPLA-IO repulsed the attackers in self-defense, but urged the ceasefire monitoring body (CTSAMVM) to investigate it.
"Indeed they (NAS forces) attacked our base and we lost one of our soldiers. Once we are done with the coronavirus lockdown, we will call on the CTSAMVM to investigate what happened. They attacked us and we responded in self-defense. It is NAS violating the cessation of hostilities agreement and we are calling on the forces of Thomas Cirillo to value the peace and stability in Yei area," he explained.
For his part, Suba Samuel Manase, the spokesman of the NAS admitted that their forces clashed with SPLA-IO forces in Kinyira boma.
He described SPLA-IO forces in Mugwo area as criminals after they allegedly abducted two NAS soldiers and looted civilians' properties.
"Our forces encountered them up to Kinyira to show no tolerance for nonsense and disturbance for us and the community," said Manase.
Meanwhile, NAS leader General Thomas Cirillo Swaka said SPLA-IO forces have recently indulged in attacking and looting of innocent civilians, especially targeting family members of NAS soldiers.
Cirillo further said SPLA-IO soldiers attacked Luriba village and captured two NAS soldiers: First Lieutenant Joseph Guya and Second Lieutenant Satimon Luka who were on mission to visit their families.
Gen. Cirillo said his armed group was fighting in self-defense.
This was the first time the two forces clashed in the area this month.
The holdout opposition group signed a truce agreement with the government in Rome on 12 January.