SPLA-IO dismisses reports on Machar's removal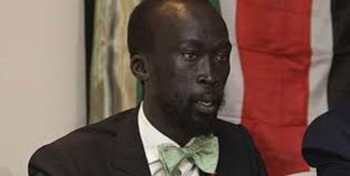 Mabior Garang, eldest son of late John Garang de Mabior, founder of the South Sudanese ruling party, the Sudan People's Liberation Movement (SPLM), has disputed reports that members of the opposition were lobbying to replace former first vice-President, Riek Machar.
In a press statement he issued on Wednesday, Mabior, who is the chairman of the SPLM-IO's national committee for information and public relations, said it was a malicious propaganda originated by government officials.
"The SPLM/SPLA (IO) would like to reassure members that this is false and that they should ignore this propaganda, intended to engineer a split in the Movement. Your Movement, the SPLM/SPLA (IO), is not interested in a quick solution that will ensure jobs for our cadres," partly reads the statement seen by Radio Tamazuj.
On Tuesday, South Sudan deputy ambassador to United States, Gordon Buay claimed that five officials from the armed opposition lobbied for Machar's removal in the Sudanese capital, Khartoum.