SPLA-IO breakaway group in Yei signs peace, declares permanent ceasefire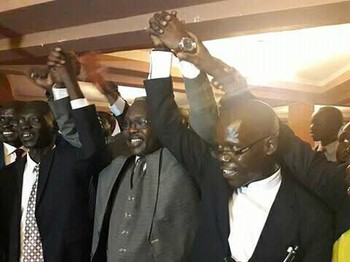 File photo: Minster Martin Elia (middle) and opposition officials hold their hands up after signing the peace agreement in Kampala. (Radio Tamazuj)
A breakaway group of the Sudan People's Liberation Army-In-Opposition in Yei River state on Sunday signed a peace deal with the government, and declared a permanent ceasefire to end fighting in the area.
The peace agreement was signed by Brig. Gen. Hillary Edson Yakani on behalf of Sudan People's Liberation Army-In-Opposition (SPLA-IO), while Maj. Gen. Marshal Babanen signed on behalf of the unity government.
The breakaway faction, according to a communiqué issued after negotiations in Kampala, declared a permanent ceasefire with effect from 5 June, 2017.
Babanen affirmed his government's commitment to implement the signed peace accord within 18 weeks. He assured that armed opposition groups fighting in the other areas have expressed willingness to abandon rebellion and join the peace process.
South Sudan's cabinet affairs minister, Martin Elia Lomuro and senior army generals from the two sides witnessed the signing ceremony in neighbouring Uganda.
For its part, South Sudan's armed opposition faction loyal to former First Vice President Riek Machar denied reports that its senior officers in Yei signed a peace deal with the government in Kampala.
In a Monday statement, Col. Lam Paul, who is a deputy spokesperson of the SPLA-IO faction, rubbished the Kampala peace accord.
"Hilary Yakani has never been a member, leave alone an officer of the SPLA -IO, he was rescued together with some of our politicians from Juba last year after the July fight. He was not trained or commissioned by the SPLA-IO and so he cannot sign any agreement on behalf of the SPLA-IO," said Lam.