SPLA-IO admits losing control of Waat town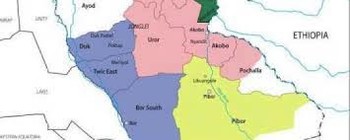 South Sudanese rebels loyal to former First Vice President, Riek Machar have acknowledged losing control of Waat town, the capital of Bieh State after clashes with government troops on Saturday.
Waat town, which lies on the Lou Nuer territory, remained under rebel control since fighting broke out between government and SPLA-IO fighters in December 2013.
Speaking to Radio Tamazuj on Wednesday, William Gatjiath Deng, the SPLA-IO Military Spokesman, said they lost control of Waat town after attacks launched by SPLA troops.
However, he said fighting was still continuing between the two sides around Waat town on Wednesday.
Government officials could not immediately be reached for comment.
The UN mission in South Sudan (UNMISS) said Wednesday that 60 aid workers were evacuated from parts of greater Jonglei state following serious violence and insecurity there.