SPLA IO admits losing control of Kaka town in Upper Nile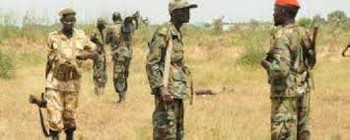 Photo: SPLA soldiers in Upper Nile (Radio Tamazuj)
South Sudanese rebels loyal to former First Vice President, Riek Machar have acknowledged losing control of Kaka on Wednesday, a strategic town in Upper Nile.
Speaking to Radio Tamazuj on Thursday, William Gatjiath Deng, the SPLA-IO Military Spokesman, said they lost control of Kaka after deadly clashes that last for three days in the area.
"In any fighting there must be loses. In fact, our forces have lost lives of three soldiers and seven others have been wounded and they are here with me being treated," said Gatjiath.
William further claimed that their forces were not defeated in the battle by the government forces that captured Kaka town, saying they made a tactical withdrawal from the town and that their forces are still around Kaka.
"We were not defeated by the government but we withdrew tactically and our forces are around Kaka town as I speak," he said.
For his part, Santo Domic, Spokesman of the SPLA army in Juba, said: "I was not informed about the capture of Kaka by our field commander but when I get the information later, I will inform you about it."
UN agencies operating in the area of Kaka confirmed that there were clashes between government troops and rebels around Kaka earlier this week.