SPLA-IO accuses govt troops of attacks near Nasser town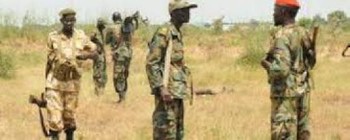 File photo: SPLA soldiers in Upper Nile
The SPLA-IO military spokesperson, William Gatjiath Deng, has accused government forces of attacking their base in Kadbek area near Nasser town in Upper Nile State on Friday.
Speaking to Radio Tamazuj on Sunday, Gatjiath claimed that the opposition forces managed to repulse the government forces. He claimed that they killed killing 17 government soldiers including a senior officer with the rank of major.
Radio Tamazuj could not reach government officials in the area to comment on the matter.