JUBA (UPDATE 16:15) -
24 Dec 2013
SPLA fight to regain control of Malakal, civilians flood into UN compound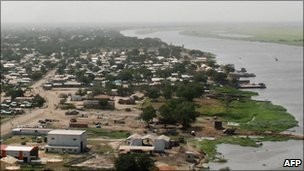 A battle over the control of Malakal started on Tuesday morning. The governor of Upper Nile, Simon Kun Pouch, and his ministers have fled to the UNMISS compound in Malakal, which is being flooded by civilians seeking refuge from clashes.
The Nuer contingent of the Sudan People's Liberation Army (SPLA) of the 7th division have begun to battle over control of the army barracks in Malakal. People have been killed in the crossfire, but the number is yet unknown. Dozens of civilians were brought to Malakal Hospital.
The SPLA loyal to Salva Kiir has now received support from the former Shilluk militia leader Johnson Uliny who was until recently still fighting the President, sources told Radio Tamazuj. Upper Nile is home of the Shilluk kingdom, the third-largest tribe of South Sudan.
According to Chol Nyanwela Akwei, member of the Southern Sudan Liberation Army (SSLA) and state adviser for rural development, they have chosen for the government and not to side with the defecting Nuer armies. He said his troops, estimated at 3,000 men, immediately joined the SPLA troops loyal to Kiir in retaking the ground that has been captured by the defected Nuer SPLA.
Radio Tamazuj spoke to several people leaving the city centre in several directions. Fightings started on Monday at 5pm but ceased during the day. On Tuesday morning the fighting resumed. After a short break the fighting started again just before midday.
An eyewitness said that all the authorities from the ministries in Malakal have run to the UN compound that opened the gates on Tuesday. A local reporter described how people rushed from the market, heading towards UNMISS.
The airport has been closed. Nuer defectors from the SPLA on Sunday proceeded to Ulang county, and then to Nasir, a previous stronghold of the former vice president of South Sudan, Riek Machar.
Governor Simon Kun Puoch confirmed on Monday to Radio Tamazuj there were clashes in Tunja at night in Panyikang county, and also in Kofit in Baliet county. In Nasir county armed youth entered the town, he said. Another source in the state specified that the fighting in Panyikang occurred on Sunday at the 7th Division Headquarters Wuwac and at Tunja, the county seat.
Likewise, the governor mentioned Wuwac as the site of a clash between elements of the 7th Division and armed civilians from the Tunja area. "But it finished on Monday, since the morning. The people who wanted to attack those people fled to the bush," he said. Wounded soldiers were being seen transported to the Malakal Hospital. There were no clear reports on the number of casualties.