SPLA denies 'private militia' pulled out from frontlines after sacking of Malong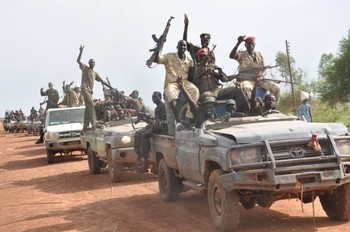 File photo
South Sudan's army has denied reports that the Mathiang Anyoor pulled out of frontlines in various defensive positions, where government troops are fighting against opposition forces.
The 'Mathiang Anyoor' were conscripted from Northern Bahr al Ghazal to protect Kiir's government after the civil war started in December 2013.
The armed group, mobilized by the former army chief Gen. Paul Malong Awan, has fought alongside organized forces since the start of civil war, but the group originated outside of the army's command.
SPLA Military Spokesperson Santo Domic Chol told Radio Tamazuj on Friday that the Mathiang Anyoor forces are still maintaining their defensive positions across the country, rubbishing reports that the armed group had withdrawn after the sacking of Paul Malong.
He pointed out that the armed group was absorbed into different units of the SPLA army. "The SPLA is not a politicized army, so it cannot pull out of frontlines because a senior commander has been removed from his position," said Domic.
But multiple sources told Radio Tamazuj that some members of the Mathiang Anyoor group had withdrawn from their defensive positions in some parts of Upper Nile in protest, but the new SPLA army chief managed to persuade them to return to the frontlines.
In early June, South Sudan's rebels allied to former First Vice President Riek Machar claimed that they had received orders from their leader to give safe passage to the Mathiang Anyoor forces that wanted to withdraw from the frontlines and go back to Aweil.
The rebel group also claimed in a statement that the withdrawal process started in Malakal where it said some troops were allowed to go through Bentiu.