SPLA denies advancing on rebel stronghold of Pagak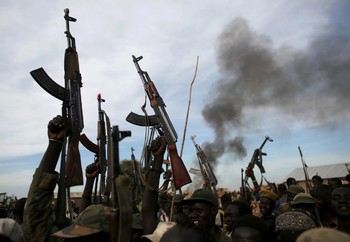 File photo: Rebel fighters hold up their rifles as they walk in front of a bushfire in a rebel-controlled territory in Upper Nile State in 2014. (REUTERS)
South Sudan's army has disputed reports claiming its troops were advancing on Pagak, the rebel stronghold established by former first vice president Riek Machar near the Ethiopian border.
SPLA spokesman Brigadier Lul Ruai Koang told told Radio Tamazuj on Monday that government troops are now assembled in Guelguk and Mangok areas in Upper Nile, claiming that their forces were attacked by opposition fighters but they were repulsed.
Last week, the United Nations said the government forces were moving to attack Pagak.
Lul also denied reports that their troops supported by forces loyal to the country's First Vice President Taban Deng Gai were advancing on Pagak area.
"If Taban Deng's forces are moving to Pagak it is their responsibility," said Lul.
Last week, the spokesman of the government-allied opposition faction in Juba, Dickson Gatluak Jok, said troops allied to President Kiir and their forces were advancing on Pagak.