SPLA brigadier general killed in battle in Northern Liech: official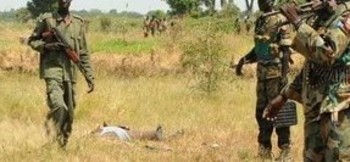 File photo: SPLA soldiers stand close to a dead body in the camp of Lalo following fighting, close to Malakal, October 16, 2016. REUTERS
Authorities in South Sudan's Northern Liech State announced that an SPLA brigadier general was killed in battle with opposition fighters at Kuergeng on Tuesday.
Northern Liech's Acting Minister of Information David Gai told Radio Tamazuj on Wednesday that SPLA Brigadier General Goakuoth Machar was killed after opposition troops attacked Kuergeng on Tuesday night.
He pointed out that two other government soldiers were also killed during fighting. "We have three soldiers who sustained injuries. We also killed six rebel soldiers including their brigadier general," he said.
Gai claimed that that their forces managed to repulse the attackers. He added that the security situation returned to normal after the incident.
The local government official accused forces loyal to opposition leader Riek Machar of involvement in the attack.
But SPLA-IO spokesman Paul Lam Gabriel had denied knowledge of clashes in the area of Kuergeng saying their forces were observing the signed ceasefire deal.