SPLA blames UNMISS for downing helicopter in Jonglei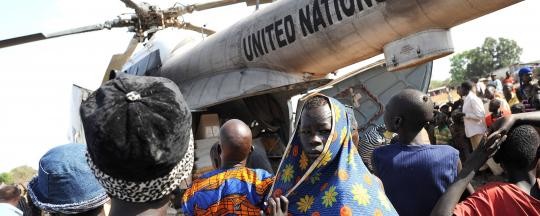 A Brigadier General from South Sudan's army has said that the UN Mission in South Sudan (UNMISS) is responsible for the recent helicopter incident resulting in the deaths of four Russian UNMISS pilots in Jonglei state.
Malak Ayuen Ajok told Radio Tamazuj on Thursday that UNMISS "broke the rules." Commenting on SPLA soldiers who spotted the helicopter in a military airspace in Jonglei, he asked 'How can an unknown plane fly up there without any communication?'
South Sudan's army shot down the helicopter on December 21 in Likuangole in eastern Jonglei because it thought the helicopter was an enemy plane supplying the Murle-led rebels loyal to David Yau Yau.
Following the same line, Philip Aguer, spokesperson of the Sudan People's Liberation Army (SPLA), said on Saturday that a communications failure led to the accident: 'The SPLA saw a white plane landing and asked UNMISS whether they had any flights in the area but they denied it… UNMISS should have informed us.'
Ayuen Ajok explained the SPLA suspicion of the helicopter as a result of previous attempts by Khartoum to disguise aircrafts supplying proxy rebel groups as UN-owned.
He added that further investigation is necessary to discover what exactly triggered the SPLA to down the MI-8 helicopter: 'UNMISS should conduct an internal investigation into the incident' (…) 'The SPLA will not walk away from any investigations.'
The Russian Ministry of Foreign Affairs demanded yesterday that all those involved in and responsible for the incident should be held accountable and face trial. Spokesperson Alexander Ukashevic warned that Russia will closely follow the steps of the South Sudanese authorities in investigating the incident.
He added that Russia will no longer allow their civilian aircrafts to fly in South Sudanese airspace without such measures being taken.
The remains of the four Russian peacekeepers arrived in Moscow on Wednesday.
File photo: A helicopter in Tali payam on 2 January 2011 (Tim McKulka/UN)
Related: Analysis: S. Sudan army downs UN chopper (25 December)