UPDATED: Special investigation: 40 church leaders killed in South Sudan since 2013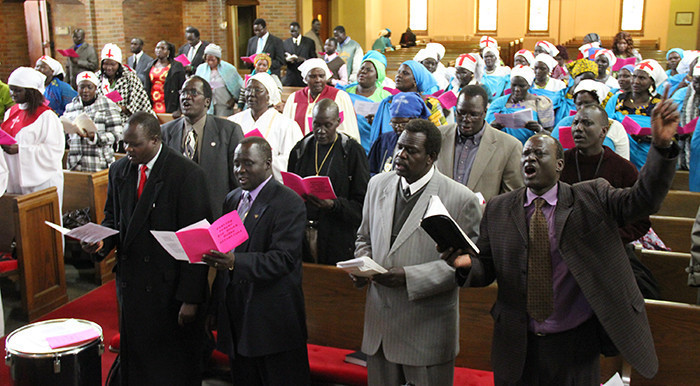 South Sudanese sing at the first Presbyterian Church of Albert Lea (Albert Lea Tribune)
At least 40 church leaders were killed across South Sudan between December 2013 and March 2017, according to investigations carried out by Radio Tamazuj.
South Sudan descended into civil war in December 2013 after President Salva Kiir fell out with his rival and former deputy Riek Machar.
 The two rival forces and unknown criminals, besides the cattle raiders, are being accused of involvement in the killing of the church leaders in the world's youngest nation.
The investigations found that 32 of the 40 church leaders killed were ordained priests, mainly of South Sudan's Episcopal Church, while others were from the Evangelical Presbyterian Church and Catholic Church.
The other seven church leaders included evangelists and lay readers who were also brutally killed in different churches based on their ethnicity in Western Equatoria in 2016.
Although South Sudan's Council of Churches declined to talk about the matter, Radio Tamazuj managed to reach several Christian leaders who confirmed the figure of the church leaders killed either by government soldiers or rebel fighters across the country since the outbreak of the civil war in 2013.
Juba city
Rev. William Tut, a pastor of Sudan Sudan's Evangelical Presbyterian Church, said at least 10 pastors from their church had been killed since December 2013 in different parts of South Sudan.
He pointed out that Rev. Simon Nyang was killed on his way to the UN camp in the capital Juba on 16 December 2013.
Former Upper Nile State
Rev. Tut said that Rev. Daniel Giel Pal, Rev.  James Chuol Rual and James Atier were killed inside a Presbyterian church in Malakal town in January 2014 when the war broke out in Malakal town.
He further said Rev. Yohanis Bor Koang and Rev. Simon Diu Rial were killed between Bailiet and Ulang Counties in former Upper Nile State by government troops in May 2015.
Former Unity State
The religious leader pointed out that Rev. William Nyuon Chany and Rev. Peter Par Thiich were killed in former Unity State in 2014 and 2015.
Tut noted that Rev. William Nyuon was killed on his way to the UN camp in May 2014 in Bentiu town, while Peter Par Thiich was killed in Mayendit County in 2015.
He explained that most of their priests were killed inside the churches, while others were killed on their way to the UN camps in Jonglei, Unity, Upper Nile and Central Equatoria States.
The Presbyterian priest accused the government troops of killing his colleagues in different parts of South Sudan.
"What I came to realize is that people in South Sudan do not respect church leaders, but we shall not give up, we shall continue praying for those who do not need peace until they accept it," said Tut.
"We need peace, and we will pray for those who see the people of God as enemies to change their hearts," he added.
Jonglei State
Rev. Thomas Agou, Dean of St. Andrew Church, Diocese of Bor, said at least 15 Episcopal Church pastors were killed in different areas within the Dioceses of Bor in mid-January 2014 shortly after the war broke out in Juba.
He further said seven out of the 15 pastors were murdered inside St. Andrew Church in Bor town allegedly by the White Army, a militia group loyal to former Vice President Riek Machar.
 The church leader noted that two other pastors from the same church were also killed in a road ambush laid by unknown gunmen along the Juba-Bor road in February 2015.
Agou said six pastors were also killed inside different churches in Jalle and Wernyol areas when suspected cattle raiders from neighbouring Boma State attacked those two villages in 2016.
"What can I say to those who do not respect the people of God like priests? What can I say? It shows that they don't differentiate between people, they just kill anyhow based on ethnicity, especially if he hails from some tribes like Dinka and Nuer; they just kill, they do not care if he is a priest or not,"" said Agou.
"We need peace in the country so that the killing can stop, people need to forgive each other and avoid cattle rustling and child abductions," he added.
Meanwhile, Rev. William Tut from the Evangelical Presbyterian Church of South Sudan, said Rev. Alfred Majok Giek was killed on his way to the UN camp in Bor town on 19 December 2013.
In July 2015, Tut said, Rev. Moses Mun Tiel was also killed by government soldiers based on his ethnicity at Pajut area near Yuai town, the headquarters of Uror County.
Yei River State
 Margret Jamba, Archdeacon of South Sudan's Episcopal Church in Yei, said Rev. Simon Kwaje, who was working as a priest at the Emmanuel Cathedral, was found brutally killed by unknown gunmen along the Juba-Mukaya road in March 2017.
Meanwhile, Episcopal Bishop Arkangelo Wani, who is also a member of South Sudan's Council of Churches, said they did have statistics concerning all priests killed in Yei since 2013.
However, he said: "I was told that some unknown people came and took Simon Kwaje, and after some days, people didn't know exactly what happened."
Mama Hawa Adam, Deputy Chairperson for Yei County Women's Association, said Rev. Francis Taban was shot and killed at his home by unknown gunmen on 30 March 2017.
"In November 2015, another priest was reported killed in Morobo County, and I could not remember his name," she said.
Bishop Elie Kajaminyo of the Episcopal Church in Kajo-keji said their diocese lost one priest in Nyepo County in 2016.  
He pointed out that Rev. Victor Sokil was killed by suspected government soldiers while looking after his cattle in Nyepo County.
In May 2016, Veronika Terézia Racková, a Catholic missionary sister, was killed by government soldiers at a checkpoint in Yei town while driving an ambulance with an expecting mother, according to reports from Yei.
Former Western Equatoria State
Pastor Felix Zara Kurai from the Episcopal Diocese of Mundri said two ordained priests were killed in separate incidents within the government-controlled areas in Amadi State.
According to Felix, Rev. Lino Apollo was killed by unknown gunmen on 19 July 2016, saying Apollo was working as a pastor at Medewu parish.
The church leader further said another pastor, identified as Rev. Simon Tatawa Wilson, was killed by unknown gunmen in Mundri East County on March 24, 2017.
Mathew Taban Peter, Bishop of the Episcopal Diocese of Wonduruba Diocese, said they have not lost any priest in the area.
However, he said a Catholic catechist named Onesmo Wani was killed inside a church in Wonduruba County by SPLA-IO rebels in 2016.
It remains unclear how the Catholic catechist was killed, but the bishop pointed out that he was killed in cold blood in the Katigiri area.
Radio Tamazuj could not reach the leadership of the Raman Catholic Church in South Sudan to confirm how many Catholic priests have been killed since the civil war erupted in the country.
Meanwhile, the Archbishop of the Episcopal Church of Sudan and South Sudan Dr. Daniel Deng Bul, declined to say how many Episcopal priests have been killed since the fighting erupted in December 2013 until now.
 "I am not in a position to tell you how many people have been killed; it is you people in the media who have information about church leaders killed from Anglican Church," said Deng.
"The question now is not about the number, but rather the question is why priests are being killed. That's why I am telling you, please, and you have access to those people [killers] as the media, go and ask them why the church leaders are being killed," he added.
The top church leader called on the people of South Sudan to stop the ongoing war and embrace peace and dialogue.
For their part, South Sudan's government and rebels allied to former First Vice President Riek Machar have traded accusations over the killing of the church leaders in the country.
Speaking to Radio Tamazuj, William Gatjiath Deng, Spokesman of the SPLA-IO faction allied to Riek Machar, denied claims that they killed several church leaders since the war broke out in 2013.
"This accusation is a total lie. Our forces did not kill any church leaders, when we captured Bor town, I personally took seven priests to the UN PoC, "he claimed.
He further said the priests who lost their lives were killed in crossfire during clashes between the government forces and SPLA-IO troops.
Gatjiath accused the government forces of killing church leaders based on their ethnicity inside their churches and houses across the country.
Reacting to the accusations, the SPLA Deputy Military Spokesperson, Santo Domic denied reports that their forces killed dozens of church leaders in different parts of South Sudan.
 "Concerning the issue of Yei, before going to the media and claiming that the SPLA army has killed a church leader, church leaders themselves should have taken the issue to court if they knew that it was the SPLA that killed the priest," said Domic.
He pointed out that such baseless accusations are meant to smear the reputation of the SPLA army.
 "Since the 1980s, churches helped the SPLA army during the liberation struggle when we were fighting against the Khartoum government, even some SPLA officers have graduated from schools operated by churches, so I don't think that the same SPLA can turn against the churches and kill priests, said Domic.
South Sudan's presidential spokesperson, Ateny Wek Ateny, denied knowledge of dozens of church leaders killed since the conflict broke out in 2013.
"I want to say that the government of South Sudan doesn't have any problem with the church leaders even if some of them started speaking against the government, but we don't have any problem with churches," said Ateny.
The official pointed out that it is not a state policy to kill priests while blaming criminals for the incidents in which dozens of pastors and other church leaders were killed across the country.
UPDATE: This story has been updated at 2:00 pm, 17/4/2017 with information from Yei. In a previous version of this story, we omitted to mention the death of Sister Veronica, a Catholic missionary sister killed in Yei town in 2016.